The city of Carmel has awarded a $28.8 million contract to move forward with construction of the long-anticipated roundabout interchange at 96th Street and Keystone Parkway.
The Carmel Board of Public Works approved the agreement with Goshen-based Rieth-Riley Construction Inc. at a meeting Wednesday morning.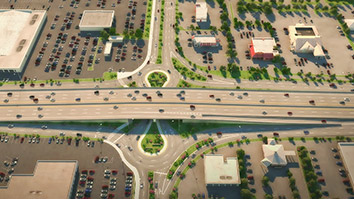 The work will include construction of the roundabout interchange, reconstruction of Keystone Parkway from Interchange 465 to 98th street and reconstruction of 96th Street from Haverstick Road to Enterprise Drive.
The contract will be paid for through a $160 million county option income tax bond the city approved in 2016.
Once completed, traffic on Keystone will travel over 96th Street, and traffic on 96th Street will travel through a multi-lane teardrop roundabout. Construction could start this summer, with most of the work anticipated to be completed in spring 2018. The intersection will remain open during construction.
Carmel has been trying to upgrade the congested intersection for years—unsuccessfully trying twice to receive competitive federal transportation dollars to help fund the project.
After the most recent attempt to secure a $19.4 million grant through the Transportation Investment Generating Economic Recovery program, Mayor Jim Brainard said the city would still tackle the project by using more local funds.
The project had been estimated at $32 million, but Rieth-Riley's bid came in at $28,793,000.
The city also received bids from Chicago-based Walsh Construction, Boggstown-based Beaty Construction Inc., Portage-based Superior Construction and Columbus-based Milestone Contractors, with prices ranging from $30.3 million to $34.3 million.
The intersection is the only one along the Keystone corridor in Carmel that hasn't been upgraded to an elevated roundabout. Carmel has invested $112 million along the busy roadway to remove stoplights and install roundabouts over seven intersections in a five-mile stretch.
Carmel also is trying to build roundabouts along 96th Street at Hazel Dell Parkway, Gray Road, Delegates Row and Randall Drive, but the city of Indianapolis is suing its northern neighbor to stop the projects.
In the lawsuit filed in Marion Superior Court, Indianapolis claims Carmel would encroach on the city's corporate boundary with Hamilton County if the roundabouts were constructed.
Carmel secured an Interlocal Cooperation Agreement for the roundabout at 96th Street and Keystone, so that project is not in question.
Please enable JavaScript to view this content.