Ikea plans to open its Fishers location on Oct. 11, the Swedish furniture retailer announced Tuesday morning.
The store will open at 9 a.m. that day, but customers will be allowed to start lining up at the store on Oct. 9, the retailer said. It will be the company's first store in Indiana and 45th store in the United States.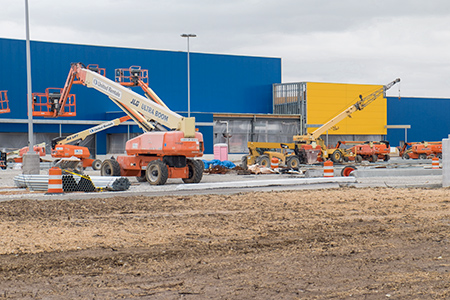 "We are thrilled by the excellent construction progress made to date, and believe we can complete the remaining milestones and interior build-up by mid-October," store manager Holly Davidson said in written remarks. "Besides furnishing our store, we also are focused on continuing recruitment and training of all the coworkers joining the Ikea family."
Ikea announced plans for the $40 million store in fall 2015. The 289,000-square-foot building and 1,000-space parking lot are being constructed on a 35-acre property on the east side of Interstate 69, just south of the 116th Street exit.
Construction created about 500 jobs, and the store will need about 250 employees.
The store will feature nearly 10,000 exclusive items, 50 room settings, three model home interiors, a supervised children's play area and a 325-seat restaurant.
Ikea, founded in 1943, has about 400 stores worldwide in 49 countries.
Please enable JavaScript to view this content.