It was a bleak time for top brass at Indiana University Health. Two years ago, in the wake of sweeping layoffs, a nurse union-organizing effort and a $1 billion cost-cutting program, employees delivered a stark message in the company's annual survey: Morale was low. And so was confidence in senior leadership.

Executives, stunned by the response, sent out a two-page apology, and promised to do better, including "more effective and frequent communication."

It was a big pledge—and it led this year to a four-month meet-and-greet tour, with the most ambitious series of employee town hall meetings in IU Health's history.

This spring and summer, CEO Dennis Murphy and his executive team logged thousands of miles in a 33-stop, statewide tour of IU facilities, from Monticello to Paoli. It was an opportunity, Murphy said, for both sides to learn and share information as the organization tries to navigate a turbulent period in health care.

"I tell everyone, there are no easy jobs in health care, because it's a complex, demanding time," Murphy said in an interview in his office on the top floor of Fairbanks Hall, the headquarters of IU Health at the head of the Central Canal near downtown. "But if we are aligned on our goals and what's important to us, we'll be successful."

The tour ran from March 2 to July 12, with meetings scheduled two or three times a week. Murphy and a rotating group of other executives visited 14 hospitals and 19 outpatient facilities and support service departments, including a pathology laboratory, a revenue and billing center, and information services.



Thousands of workers got a chance to ask questions about everything from patient care and billing to work schedules and employee benefits.

Murphy said he didn't hear of any huge problems that would cause him to make quick or drastic changes, such as safety concerns for patients or workers.

But he did hear what he called "chronic" issues that he said he'll begin to address. One example: complicated hospital billing. Numerous employees who are covered by IU Health's insurance plan said they couldn't figure out their bills after visiting a doctor or hospital, and were frustrated in trying to get help.

"I think that's a legitimate question and concern," he said.

Time of transition

Murphy took over as CEO in May 2016, succeeding Dan Evans, who retired after 14 years in that job. Murphy had previously served as president and chief operating officer.

He undertook the statewide blitz at a critical time, as IU Health is trying to manage a growing system that stretches nearly the length of the state.

In the past two decades, the organization has grown from a single hospital with $226 million in revenue to a system with 15 hospitals and scores of clinics, with revenue of $6.2 billion and assets of $8.7 billion.

It has also scooped up physician practices, acquired small hospitals and opened urgent-care clinics. In the process, it has become the state's largest health system and one of its biggest employers, with about 33,000 workers.

What IU Health has built in the process is an enormous organization of small and medium-size hospitals and clinics that provide basic care. They also act as a feeder system, sending more complicated cases to Methodist (the largest hospital in the state, with 625 beds), University (the state's largest teaching hospital) or Riley (the state's first pediatric hospital).

But managing such a huge system is now a huge job, Murphy acknowledged.

The challenge has been to explain the IU Health strategy to an expanding workforce, without making employees feel that decisions are made in an ivory tower in Indianapolis.

"The fact is, we are one system, not 15 different business units," he said. "We need to create a clear alignment with more than 30,000 people working in the health system: Where are we going? What are the important things we're focused on? We want to lay out our strategy and explain how each individual fits in."

Some hospital labor experts say it's smart to keep on top of problems with frequent town hall meetings.

"It's always better to be in front of the game in employee relations," said Dennis Devaney, a health labor attorney near Ann Arbor, Michigan. "You want to make sure the employees make sure their concerns and issues are being listened to and addressed. They don't want to feel isolated or excluded, especially in an industry as fast-changing as this one."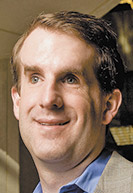 Dalrymple
Keeping employees informed is key to keeping them satisfied and productive, said Michael Dalrymple, an employment attorney and civil mediator in Indianapolis.

"You're not going to get sued by happy employees, and one way to keep them happy is to make them feel included and part of the team," he said.

And the team keeps growing. In May, IU Health acquired Premier Healthcare in Bloomington, one of Indiana's largest independent physician groups, with about 40 primary care and specialty doctors.

Other changes are continuing at a dizzying pace, too. This month, IU Health unveiled design plans for a $340 million hospital and academic center on the grounds of Indiana University in Bloomington to replace an aging hospital about five miles away.

In the past two years, IU Health has opened five urgent-care centers—in Greenwood, Brownsburg, Lawrence, Plainfield and Broad Ripple. Next month, it plans to open yet another location, along the border of Noblesville and Carmel at Hazel Dell Parkway and East 146th Street.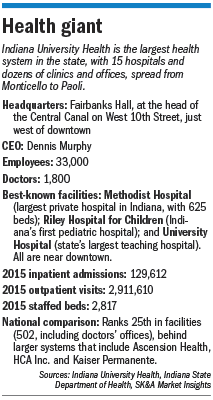 Making progress

According to recent survey results, morale is improving. In May, more than 25,000 employees participated in a survey conducted by Massachusetts-based Press Ganey, rating everything from job satisfaction, to compensation and benefits, to whether managers treat them with respect.

They gave IU Health an overall score of 4.05 (out of 5). That's up from 4.04 in 2016 and about 4 in 2015. Murphy said those results are encouraging.

"We've seen, over the past 24 months, significant improvement in our employee-engagement scores, particularly in the nursing realm," he said.

That appears to be a sharp turnaround in nurse-management relations. Three years ago, the United Steelworkers of America was trying to organize nurses at IU Health's downtown hospitals. Nurses who supported the union complained about low staffing levels they said hurt patient care, low pay and other issues.

But the organizing effort fizzled out—in part, the union said, because IU Health fired one nurse involved in the organizing and disciplined a second. The health system later dropped the discipline of one nurse and agreed to pay lost wages and benefits to the nurse who was fired.

The improvement in scores comes after IU Health, like many health systems, found itself battered by a falling economy and a sharp drop in patient visits about five years ago. In response, IU Health cut 935 workers in 2013, and kept cutting in 2014.

But the organization's fortunes began to turn around in 2015 as the Affordable Care Act kicked in and offered coverage to hundreds of thousands of additional people through the insurance exchanges and Medicaid expansion. Patient visits surged, and the organization began hiring rapidly.

In recent quarters, however, the benefits of the ACA have begun to top out. Inpatient admissions dipped 2 percent at 14 hospitals IU Health had owned for at least six months.

Earlier this year, the organization sold three hospitals in northern Indiana—in Goshen, LaPorte and Starke—after deciding they didn't fit into the system's strategy. Patients in that region who needed higher levels of care often went to Illinois, Michigan or Ohio, rather than to a large IU Health hospital in Indianapolis. As a result of the divestiture, revenue in the quarter dropped 3 percent.

Work not finished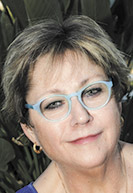 Moghadas
Murphy said keeping the whole enterprise moving in the right direction was important enough to launch the statewide tour—even though it sometimes meant getting up before 5 a.m. to drive to a remote region for a breakfast meeting with workers.

"And there were nights when we were going until 9 or 9:30," Murphy said. "There were long days. And almost all of them would end with a meeting of a group of physicians at a site we were visiting."

But even though the tour is over, some hospital experts say the effort should continue, even on a smaller scale.

"You've got to keep doing it," said Kathryn Moghadas, a registered nurse and principal with Associated Healthcare Advisors, a consulting firm in Winter Springs, Florida. "And it helps if you can stop in at all times of day. What's going on at 8:30 at night on a Thursday? What's going on at 2 o'clock on Sunday afternoon? That's where you see all sides of the operation."•