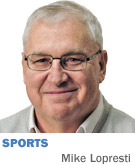 Here it is again, your virtual-reality, college-football season ticket, admitting you to the most intriguing FBS games in the state in 2017. Just in time for opening weekend.
It includes a varied list of names, but then, you never know what opponents are going to show up on the schedule. Consider this future odd couple in 2021: Nothing says intersectional rivalry like Indiana vs. Idaho. The Interstate 69 extension might even be done by then.
Anyway, this year's slate:
■ Aug. 31. Ohio State at Indiana.
ESPN's "GameDay" is coming to Bloomington, and it's not even a wrong turn. IU is the 69th school to host the show, so the Hoosiers were far back in line, but this night has too many juicy angles not to feature. Nine months ago, Indiana fired Kevin Wilson, cutting-edge playbook and all. He'll return in charge of the Buckeyes offense, facing Tom Allen's defense.
Plus, when last seen, Urban Meyer was being shut out for the first time in his college coaching life, which is why he dialed up Wilson.
Plus, they should give free popcorn to anyone in attendance who was born the last time the Hoosiers beat the Buckeyes. That was 1988. The Berlin Wall still stood.
■ Sept 2. Purdue vs. Louisville.
The Brohm family is more Louisville than mint juleps. Jeff is a Cardinal alum, and so are his dad and brothers, but now he'll try to upset their alma mater, as his Boilermaker coaching era begins in Lucas Oil Stadium. Back for Louisville is Lamar Jackson, who might be the least-hyped returning Heisman winner in memory, maybe because he lost his final three games last season and was sacked 22 times. That's even more punishment than the guy who wears No. 12 in Lucas Oil on Sundays has taken.
■ Sept. 8. Ohio at Purdue.
One of those newfangled Big Ten made-for-TV Friday night games that do no favors for high school football. "I think it's fair to say there's been pushback," league Commissioner Jim Delany said.
Since the Big Ten is also putting league basketball games on Friday night, we pause a moment to hear from IHSAA Commissioner Bobby Cox on the subject.
"In an ideal world, Friday night would be reserved for high school football. We don't live in an ideal world, however," he said over the phone, mentioning how he appreciated a heads-up call from Delany. "I've taken a little different take on this than a lot of states. The reality is, this is going to happen whether the high schools like it or not. I don't see the utility in pouting about this or throwing up my hands in disgust.
"I think working with our state universities in a cooperative manner is a much better approach to this issue."
He cited as an example the Sept. 8 football games involving Tippecanoe County teams that moved from Friday night to avoid the Boilermakers. Purdue opened the doors to Ross-Ade Stadium for them to be played there the next day.
And the fallout when the same Friday night invasion happens during basketball season? IU has three Friday night Big Ten games.
"Too early to tell," Cox said. "What really drives high school crowds now are student bodies. When those kids show up, their parents show up. Will there be some folks that might stay home and say, 'I'd rather just watch IU play X?' That might happen, but I don't think dramatically it's going to have a great effect. I think we need to take a look-and-see attitude."
■ Sept. 9. Georgia at Notre Dame.
Georgia is one of the biggest names never to have played in Notre Dame Stadium. Fair warning to the Bulldogs: The Irish are 58-13-1 against first-time visitors.
■ Sept. 23. Michigan at Purdue.
These two haven't met in five years. Here's a Boiler Up from history: Two of the last three times the Wolverines were in the top 10 coming into a Purdue game, the Boilermakers beat them.
■ Oct. 14. Michigan at Indiana.
The Hoosiers have dropped 21 in a row to the Wolverines going back to 1987. And Michigan Coach Jim Harbaugh is Tom Crean's brother-in-law. Imagine the extra incentive.
■ Oct. 21. USC at Notre Dame.
By this point of the season, we should know how hot Brian Kelly's seat is in South Bend.
■ Oct. 26. Toledo at Ball State.
Welcome to the MAC, which craves TV weeknight games like mosquitoes crave bare legs. The Cardinals' last Saturday contest is Oct. 21. This is the first of four Thursday night kickoffs for Ball State, and is against the top team in the league. 
■ Oct. 28. Nebraska at Purdue.
The Cornhuskers are on a very short list. They're the only Big Ten team to lose in West Lafayette in the last four seasons.
■ Nov. 4. Wisconsin at Indiana.
There has been a four-year hiatus in this series, and before that, the Hoosiers had dropped nine in a row. Then again, the basketball team has lost 17 of the last 19 to Wisconsin. Bottom line: The Badgers are a pain for Indiana.
■ Nov. 21. Miami at Ball State.
The Cardinals and Red Hawks are 73 miles apart and should play every year. Now they are. Behold, the inauguration of the Red Bird Rivalry in Muncie.
■ Nov. 25. Indiana at Purdue.
The Hoosiers have never, ever won five Bucket games in a row, but they might now. The last time this game involved two first-year coaches was 1997, Cam Cameron vs. Joe Tiller. Tiller and Purdue won 56-7. 
There you have it: 12 games, one ticket. Tailgate parties, optional.•
__________
Lopresti is a lifelong resident of Richmond and a graduate of Ball State University. He was a columnist for USA Today and Gannett newspapers for 31 years; he covered 34 Final Fours, 30 Super Bowls, 32 World Series and 16 Olympics. His column appears weekly. He can be reached at mjl5853@aol.com.
Please enable JavaScript to view this content.