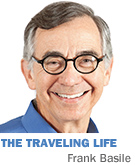 A 2017 report by an agency of the United Nations declared that Norway is the overall happiest country in the world. Next in line: Denmark, Iceland, Switzerland, Finland, Netherlands, Canada, New Zealand, Australia and Sweden.
I was intrigued by the fact that the four countries that make up Scandinavia are consistently in the top 10 in such rankings. This despite their long, cold, dark winters.
And so, on a recent trip to Denmark, Sweden, Finland and Norway, I did a little firsthand research to try to determine what common factors might contribute to this happiness. Joining me was my wife, Katrina—who said she wanted to go there to "get happy."
(This does raise the question of whether a person could move to such a place, and over a period of time, "catch" happiness, but we'll leave that for others to research. We like living in Indianapolis).
Not wanting to draw any conclusions before the trip that would skew the findings, I did no special in-depth research ahead of time. Instead, in search of answers, I talked to locals. In many cases, my questions led to two or more people engaged in a lively discussion, with some representing different opinions, as you will see.
The most frequent reason given to me for Scandinavians' happiness is the security of knowing their basic health care needs will be provided for by the government—along with education, extensive paternal and maternal time off, old-age benefits, etc. As one local put it, "We are content because we are taken care of from womb to tomb."
On the other hand, a couple commented on the relatively high income-tax rate necessary to pay for all these "freebies." And one man felt the system amounts to income redistribution and is a disincentive to striving to achieve more. But the dissenters appeared to be in the minority. The rest I spoke to found it a worthwhile exchange.
Well, except for the person who commented, "The medical care is good all right, providing you are not in a hurry. There are long waiting lists for most treatments unless you are dying."
One stated his concern about college graduates leaving the country after getting their free education and moving to places with greater earnings potential in a capitalistic, competitive environment. Another point of view was offered by one person who said, "Our expectations are relatively low, so we are satisfied and happy with what we have, without constantly striving for more of everything, which would only make us less happy."
Along these lines, some commented upon the relatively "simple, uncluttered lifestyle" as evidenced by the well-known Scandinavian furniture design. (Side note to Ikea: Welcome to central Indiana.)
One of the factors used to gauge happiness in the UN survey is faith and confidence in the government. This came through in my conversations, with most making positive comments. Though I did not ask for their opinion of our government and our happiness, a couple noted their observation of a perceived decline in people's trust in the U.S. government in the last decade, especially with the "increase in racial tension, crime and class warfare."
For some, homogeny played a part in happiness. Several commented on the lack of diversity that they feel contributes to the harmony of the people and the absence of conflict. Some expressed concern that stepped-up immigration might have a negative effect on overall happiness.
At least a couple attributed their happiness to the proliferation of art and culture, which they said is heavily subsidized by the government. I hope that's true. The art I saw in the subway system certainly made Copenhagen's underground more attractive.
Two or three people noted the lack of outward manifestation of their happiness. In other words, they didn't think Scandinavians smile as readily and often as others do. I noted this also and at first thought it tended to contradict the happiness image. But I was assured that the lack of outward expression doesn't reflect a lack of happiness.
Of course, there are some who doubt the whole notion of gauging happiness in a survey. Said one fellow: "The whole happiness survey thing is meaningless and is not an accurate reflection of the happiness of a country's citizens."
Was Katrina happier after the trip? As we returned from our whirlwind tour of these four countries, she said she was too exhausted to know. She suggested we spend a week on a beach somewhere while she thinks about it.•
__________
Basile is an author, professional speaker, philanthropist, community volunteer and retired executive of Gene B. Glick Co. His column appears occasionally. Basile can be reached at Frank_Basile@sbcglobal.net.
 
Please enable JavaScript to view this content.