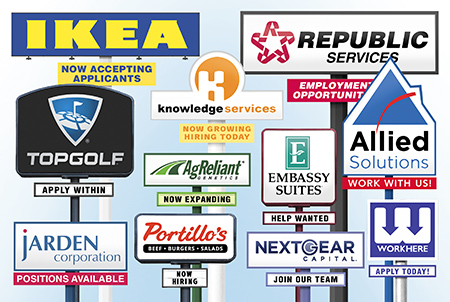 Employers in Hamilton County were struggling to find workers in the fall of 2015, back when the county's unemployment rate was 3 percent—a rate that's easily within the realm of what experts consider "full employment."
But today, the situation is even worse (or better, depending on your perspective).
In July—the last month for which data is available—the county's unemployment rate had dropped to 2.8 percent. And it has been even lower recently—it was 2 percent in April, the lowest monthly rate seen since 2001.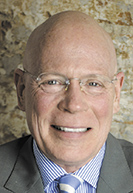 Monger
That's made filling open jobs—both existing ones and the thousands of new ones being added across the county—even tougher.
No particular industry sector appears safe from the impact. Tim Monger, CEO and president of Hamilton County Economic Development Corp., said companies in health care, information technology, advanced manufacturing and construction are all struggling to find workers.
The retail and hospitality industries, which account for close to 14 percent of the private workforce in Hamilton County, have also been hit hard.
"We're not getting anybody to come in and apply," said Jeremy Geisendorff, general manager of Cambria Hotel & Suites near exit 210 off Interstate 69 in Noblesville. "As you drive around here, everyone has 'Now Hiring' signs out. Everyone does."
The county's average annual unemployment rate has gradually decreased since 2010—which prompted officials to take action in the spring of 2016. That's when the Hamilton County Economic Development Corp. launched a workforce development initiative called "Work! Hamilton County, IN" to identify hiring problems and help companies find more job applicants.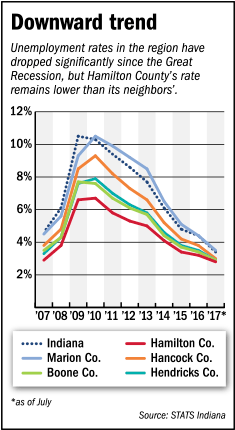 The organization surveyed a variety of businesses and convened focus groups, but solutions are still a distant goal. Leaders say that's because the problem isn't easy to solve.
"It's almost like playing chess on multiple levels," Monger said. "Workforce is a complicated issue."
And the job market is only going to continue to be tough for employers. In the area surrounding I-69 and East 116th Street in Fishers alone, more than 1,000 jobs are expected to be on tap soon in retail, food and entertainment.
Plus, companies including Allied Solutions LLC, Knowledge Services, ID Castings LLC and IMMI are creating thousands of jobs throughout the county in coming years.
"It's a great problem to have, I guess, because our economy is booming," Geisendorff said. "But it's going to be a serious problem."
Now hiring
Carmel-based Allied Solutions has already added more than 80 jobs in the last 12 to 18 months, and more are on the way; the insurance company has committed to creating up to 600 jobs by the end of 2025.
Ashima Kapur, vice president of human resources, said recruiting is going well so far, but she still has concerns.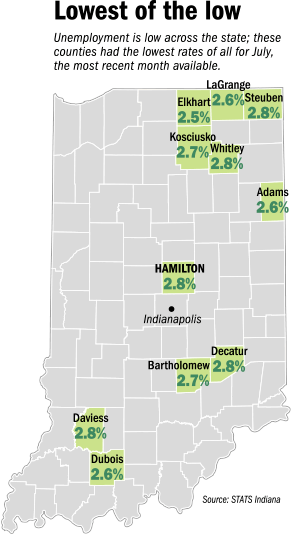 "It's not easy to find talent," Kapur said. "It's gotten a little bit harder lately."
To expand the applicant pool, the company does a lot of recruiting on a national level. Kapur said that strategy usually attracts more candidates, but jobs are constantly open.
"We're always looking for call center people, IT positions, and claims and adjuster type of roles have been tough to fill," she said.
Portillo's, which is hiring about 150 employees for its Fishers restaurant set to open Sept. 26, is seeing quality applicants, but not in large quantities.
Portillo's Recruiting Manager Nicole Quinn said the restaurant has been conducting about 40 interviews a week at its open interview center at The Wellington Fishers Banquet and Conference Center—but 100 interviews a week is the target rate when hiring for a new store.
She said the company is doing whatever it can to generate interest—social media, job boards, church meetings, posters at libraries and schools, advertisements in local media, and email blasts.
"Whatever we have to do, we have to do," Quinn said. "You can't open a restaurant without a certain number of people."
So far, about 65 employees have been hired.
Topgolf, which is on 116th Street across from Portillo's, is planning to hire 500 employees and is marketing jobs through online posts and a local team doing outreach in the community.
The restaurant's job interviews—which the company calls auditions—include team-building challenges, an event-planning scenario, and both a panel and one-on-one interview.
Hired associates receive free Topgolf game play and food-and-beverage discounts in addition to health and retirement benefits.
Ikea, which is opening its Fishers store on Oct. 11, might be having an easier time than most as it tries to fill 250 jobs.
"It's not just that we're well-known as a retailer, but I think between the Swedish heritage and the fact that people kind of know it's a unique shopping experience, I think folks recognize it's a unique place to work and a fun place to work," Ikea spokesman Joseph Roth said.

Plus, Ikea offers health insurance, retirement, and maternity and paternity leave to all employees working at least 20 hours per week. Even those working less than 20 hours are eligible for some benefits.
"For many companies, they're like, 'Oh, that's a given,' but in retail it's not always a given," Roth said. "Particularly, if you're less than full-time."
Holly Davidson, manager of the Fishers Ikea store, said the company has about 60 percent of the staff it needs "on board," in training. About 30 percent of the staff will be Ikea employees transferring from other locations; the other 70 percent will be hired from the Indianapolis area.
Davidson said Ikea has had "huge turnout" at several job fairs, which obviously has helped.
"It was surprising, honestly, just knowing that the unemployment was so low," she said.
More lures
Other employers are using additional benefits and perks to lure workers. Monger said he recently visited a tech company on the U.S. 31 corridor that had redesigned its office space to be more attractive.
"I think we'd be amazed at the number of things companies are doing," he said.
Chris Mayer, president of Sun Development and Management, said his firm has increased the minimum wages it offers for hotel positions and offers more bonuses and benefits, including an employee discount travel program.
Sun is developing the Embassy Suites near I-69's exit 210 in Noblesville that is set to open near the end of the year. The hotel will create close to 100 jobs; hiring for managerial positions has already started, Mayer said.
"It's a very tough labor market right now," he said. "Everyone who wants a job, has a job. You have to be a better employer."
Kapur said Allied Solutions offers incentives that include retention and referral bonuses.
Geisendorff, the Cambria manager, said his company offers competitive wages and benefits and provides perks for employees, including year-end parties. He even brings snacks and drinks to his associates throughout the day.
"Any type of extra we could possibly give them, we will," Geisendorff said.
Several employers say their hiring struggles are in part due to the fewer numbers of young adults looking for work or expressing an interest in certain career fields.
Monger said part of his organization's initiative involves working with employers and schools to bridge any potential education gaps. Specifically, the group is trying to work with Ivy Tech Community College in Noblesville to make sure its training and programs match the needs of local employers.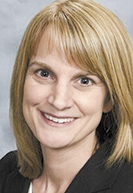 Davidson
"Are we introducing young people to different career opportunities?" Monger said. "It's sort of an ongoing discussion."
Kapur, of Allied Solutions, said within the last few months, the company has started to partner with higher education institutions and attend more job fairs.
That strategy appears to be helping. Although the jobs are usually roles that would have gone to someone more experienced, Allied Solutions is now willing to fill some positions with recent graduates and move them through a training program.
Geisendorff said Cambria always has openings for cooks and in housekeeping, and the hotel used to fill a variety of roles with young adults looking for their first jobs.
"I would hire them in a heartbeat," Geisendorff said. "It just doesn't seem like it's really a priority anymore."•
Please enable JavaScript to view this content.