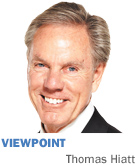 On Aug. 15, the IMA announced that it was uniting the diverse elements of its 152-acre campus into a cultural campus named Newfields. I would like to share some additional context about the recent announcement and the perspective of the board of governors.

The story actually begins with this organization's leadership 50 years ago. Ruth Lilly and Josiah K. Lilly III donated their parents' estate, Oldfields, to what was then known as the Art Association of Indianapolis. That generous gift—which included the home they both lived in as young adults, Newfield—changed the trajectory of this organization and its role in our community. The leaders in the late sixties envisioned a cultural campus unlike anything else in this state—a place for art, performance and nature. Over the next 50 years, our passionate and open-hearted community built a major cultural destination and funded its operations through private philanthropy. Today, this campus is home to a magnificent art museum—the IMA, a beautiful botanical garden and historic home, and the exceptional Virginia B. Fairbanks Art & Nature Park: 100 Acres.

Five years ago, the board of governors identified a serious issue as we endeavored to hire the next director and CEO. Annual spending outpaced the endowment's earnings as well as annual donations. At the time that Dr. Charles Venable was hired as director and CEO, the organization was spending more than 8 percent of its endowment annually, putting the future existence of this vital and vibrant part of our community at risk. We specifically sought a visionary leader who would develop and execute a concrete plan to eliminate this risk and ensure the museum, the garden and Fairbanks Park would continue to be used and loved by future generations of Hoosiers.

Over the past five years, Dr. Venable and his team have done just that. We have balanced our budget, reduced our endowment draw each year, and paid off more than $40 million in debt, while delivering a wide variety of exhibitions and programs to our community. This kind of change is not easy. The board is proud and grateful to every employee of Newfields, many of whom have worked tirelessly to implement these changes, and we are also thankful to Dr. Venable and the senior leadership team for their commitment, dedication and vision. Our collective goal is to put the organization on a path toward a vibrant and sustainable long-term future, one which will excite and attract guests from across Indiana and around the world.

Newfields embodies this long-term vision and represents a promise to be a thriving museum, an extraordinary garden and a great park for everyone.

The careful research and innovation that Dr. Venable and his leadership team have undertaken over the past five years is enabling this great organization to fulfill that promise. For example, this spring's experience integrating art and nature (which included the colorful "Audubon: Drawn to Nature" exhibition in our galleries as well as "Spring Blooms: Celebration of Color," our most spectacular array of spring flowers ever in the garden) helped the organization achieve something that art museums around the country have been trying to do for years: We grew attendance (72 percent over the prior year) and diversified our audience to be younger and more ethnically diverse than ever before.

The board of governors is inspired by this moment in our history and by the success of Dr. Venable and his leadership team. By inviting a wider audience than typically visits art museums to participate in a wider variety of programs, they have found a way to maintain and build a stronger art museum. Our record membership levels attest to the robust support our community has shown for this new approach, for which we are most grateful. We are equally grateful to all the new guests who visited us for the first time this spring. We look forward to welcoming everyone to Newfields this winter for three terrific art exhibitions by day and our new "Winterlights" holiday celebration at night.•

__________

Hiatt is chairman of the Indianapolis Museum of Art's board of governors.