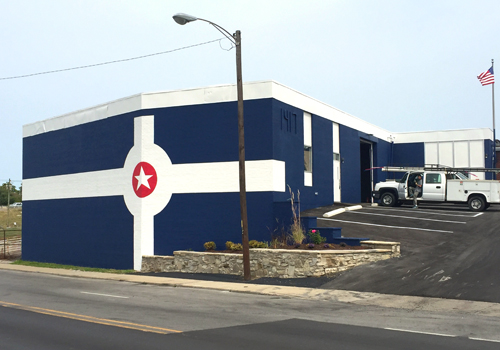 A once-vacant building along the old Massachusetts Avenue industrial corridor east of downtown is coming back to life by welcoming small manufacturers to its space.
The Riley Area Development Corp. bought the 20,000-square foot structure just south of Interstate 70 early this year and has spent $500,000, including purchase price, to prepare it for occupancy.
Located at 1417 Commerce Ave., about a block northeast of the sprawling Circle City Industrial Complex at 10th Street and East Brookside Avenue, the building was constructed in 1898 as part of the Brookside Lumber and Coal Co.
In 1950, the Harry C. Ent Materials Co. redeveloped the property as a machine shop that it expanded in 1964. The last tenant, Precision Piston Rings, occupied it until 1974. The building since has been used for storage.
"The project is a sample of how development can engage job creation in an underutilized industrial setting," said Eric Strickland, executive director of the Riley Area Development Corp. "Indianapolis has a huge network of these smaller shops. They make great startup spaces for smaller companies."
The not-for-profit Riley Area Development Corp. already is ensconced in the area, having converted part of the south end of the Circle City Industrial Complex into "maker space."
The space, known as Ruckus, serves as an incubator for nearly 40 startups, some of which could advance to the new "micro-manufacturing" space Riley is unveiling on nearby Commerce Avenue.
"We're looking for companies that are established, but under three people, that are making a product," Strickland said. "As those folks [at Ruckus] graduate and make their first hires, because it's manufacturing, it's hard for them to find 500 or 1,000 square feet of space, or whatever."
The Best Chocolate in Town already has moved its production operations to the building on Commerce Avenue and has taken 4,000 square feet. About 10,000 square feet will be set aside for eight to 10 micro-manufacturers, leaving the remaining 6,000 square feet for a single, larger tenant such as a coffee roaster, Strickland said.
Best Chocolate in Town owner Elizabeth Garber in January moved production from her retail store on Mass Ave to the building, enabling her to produce more products, such as pies and other desserts.
"I looked around in the area and thought, 'Let's keep it for a Plan B, because you never know." Garber said of the building on Commerce. "Plan A fizzled, which turned out to be a good thing. It's worked out really nicely."
Garber employs 15 people, six of whom work at the production facility.
Riley received $270,000 in Community Development Block Grant funds to help acquire the building, in addition to covering costs associated with environmental studies, remediation and permitting. Riley also received Local Initiatives Support Corp. funds to pay for building renovations.
Riley officially will unveil the building Sept. 27, with a program running from 11:30 a.m. to 1 p.m. that will include a tour of the structure.
"We want to keep these companies in Indianapolis, and we really want to place them in these underutilized industrial properties," Strickland said.
Riley's ownership of the building is the latest sign of rejuvenation along the gritty Mass Ave industrial corridor northeast of 10th Street.
About a block to the east, McNamara Florist spent at least $2.5 million to renovate an abandoned warehouse and move its headquarters there in June 2016.
The 70,000-square-foot space at 1853 Ludlow Ave. houses McNamara's distribution operations, in addition to a showroom and retail outlet. The metropolitan area's largest florist bought the 176,000-square-foot warehouse, once part of the old Master-Fit Corp. industrial complex, from Atco Products in March 2015.
McNamara demolished 35,000 square feet to make way for an employee and customer parking lot and sold the remaining 71,000 square feet—now separated by the surface lot—to RJE Business Interiors.
RJE, one of the area's largest office furniture sellers, moved its service division and warehousing operations to the building from its downtown headquarters at 621 E. Ohio St.
Please enable JavaScript to view this content.