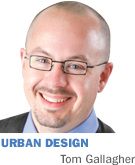 Earlier this month, Seattle-based Amazon created a stir among cities across North America, announcing it is "performing a competitive site selection process … for its second corporate headquarters." Indicating it would be an equal to the current one, "HQ2" promises more than $5 billion of capital expenditures and 50,000 jobs with an average income of $100,000 over the next 10 to 15 years. Legitimately, no city can look away from such an opportunity, but HQ2 is most likely to land in an 18-hour city (larger communities with amenities but where you can't order delivery food at 4 a.m.), of which Indianapolis is one.

Gateway cities like the so-called "big six" (Boston, Chicago, Los Angeles, New York, San Francisco and Washington, D.C.) are unlike most American cities and get most of the attention. I'm bullish about 18-hour cities (and not just because Indianapolis happens to be one). The Amazon sweepstakes illustrates some of the reasons.

Indeed, 18-hour cities hit the sweet spot of all of Amazon's stated preferences:

■ A metro area with a population of more than 1 million. Without doubt, a critical mass of people is necessary to create community and draw superlative businesses and cultural amenities. Most 18-hour cities reach that population without spilling beyond an upper limit, like the gateway cities do, where people are lost in anonymity or congestion. Because many 18-hour cities are still transforming themselves, they benefit from renewed attention to walkable urban neighborhoods and transit.

■ A stable, business-friendly environment. In its 2016 report, PwC and the Urban Land Institute provided a list of U.S. markets to watch for their business-friendliness. In addition to occupying two-thirds of the top 25, 18-hour cities dominated the list overall and do so again in 2017. Moreover, the big six continue to have some of their lowest showings in recent years.

■ Communities that can think creatively about providing a site. For 18-hour cities, approaching challenges creatively is how they have been able to compete and become markets worth watching. It is possible they could have challenges in terms of offering incentives, but at some point, free land is free no matter where it's located. The 18-hour cities are more likely to be able to assemble the 100 contiguous acres Amazon desires.

■ Ability to attract and retain talent. The "edginess" often equated with this no longer resides solely in the gateway cities. In its 2016 report "Cool Streets," Cushman & Wakefield identified the 100 "hottest urban retail markets in North America." Seventy of the 100 were in 18-hour cities. More to the point, in CBRE's 2016 Tech-Thirty, an annual review of high-tech job growth, 20 of the 30 leading markets are 18-hour cities. Six of them are in the top 10, including Indianapolis at No. 5. This is the key 18-hour-city differentiator: places that have the quality of life and attractiveness of larger cities (including strong university systems) without the outrageous cost of living.

While it remains to be seen how much corporate ethos can win over the bottom line, to the extent it can, these intangibles are where the 18-hour cities' edge really shines.

Within its guiding principles, Amazon indicates it values "long-term thinking" and has a "passion for innovation." Such entrepreneurial spirit suggests the company is more likely to take a risk on the less-obvious, smaller city, knowing its investment goes further in the long term.

Amazon has pioneered the digital marketplace, but as its new foray into brick-and-mortar stores indicates, the company recognizes the importance of the human touch and customization of experience. The company's stated desire is for its employees to fit within an authentic local culture. Where better than within the approachable scale of 18-hour cities?

Proud of its involvement in the advancement of downtown Seattle, would Amazon not hope to do the same for a new community? If only out of enlightened self-interest, it seems likely the company recognizes the opportunity to test the internet of things, smart cities and sustainability technologies available to it as it builds an urban district from the ground up—a prospect more likely in a less-built-out, 18-hour city.

With all these factors considered, here are the cities that seem to be in the strongest position to land HQ2: Austin, Texas; Raleigh, North Carolina; Denver; Indianapolis; Phoenix; Pittsburgh; Nashville; and San Diego. All these cities have MSA populations of 1 million to 5 million; are more than a five-hour drive from Seattle; are listed in the top 30 of PwC 2017 U.S. Markets to Watch; are listed in CBRE's 2016 Tech-Thirty; are listed in Cushman & Wakefield's 2016 100 hottest urban retail markets; and have at least one university in the top 50 of U.S. News & World Report's 2017 rankings of the best engineering schools and/or listed in the Forbes 2017 top 25 STEM colleges.

Cities will submit their proposals in mid-October, with a decision forthcoming in 2018. Which do you think Amazon will choose?•

__________

Gallagher is an urban designer with Ratio. Send correspondence to TGallagher@ratiodesign.com.