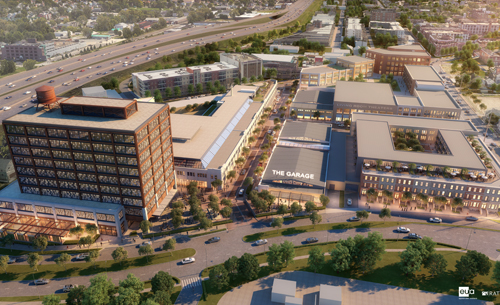 The developer of the $260 million downtown Bottleworks project plans to convert two garages on the former Coca-Cola bottling plant property into a food hall.
The buildings, on the west side of Carrolton Street within the 11-acre site northeast of College and Massachusetts avenues, total about 30,000 square feet and would have enough space to house 20 local food vendors.
Wisconsin-based Hendricks Commercial Properties, which is developing the property, already is getting interest from several restaurant and food and beverage operators, Hendricks CEO Rob Gerbitz said.
"We've got a good start, but we're being very cautious," he said. "It's important that we have the right mix."
The hall ideally would include a mix ranging from seafood purveyors and fruit-and-vegetable stands to restaurants of various sizes, Gerbitz said.
"The idea is that you can go to eat there or buy food to take home and cook," he said.
Hendricks took possession of the property on Sept. 1 from Indianapolis Public Schools after the Indianapolis Historic Preservation Commission approved the development's design in July.
The developer is applying for federal tax credits and hopes to begin work on the project in May. The food hall will be among the first pieces of the project that Hendricks tackles, Gerbitz said.
Hendricks' proposal for the Bottleworks development calls for 157 apartment units, 40 for-sale condominiums, 170,000 square feet of office space and 114,000 square feet of retail space, in addition to a hotel and cinema, for a total of 1.2 million square feet of development.
The former Coca-Cola bottling plant, constructed in 1931, served as the IPS Service Center beginning in 1971. The school district approved a recommendation to sell the 11-acre site to Hendricks in May 2016.
Hendricks is no stranger to Indianapolis. It's already known in the city for its $30 million Ironworks development at East 86th Street and Keystone Avenue, and adjacent Ironworks hotel that opened on Tuesday.
The Bottleworks project would be constructed in five phases and could take between five and 10 years to complete.
Please enable JavaScript to view this content.