The north split of Interstates 65 and 70 on the northeast outskirts of downtown Indianapolis—one of the state's busiest interchanges—will receive a complete makeover in the not-too-distant-future.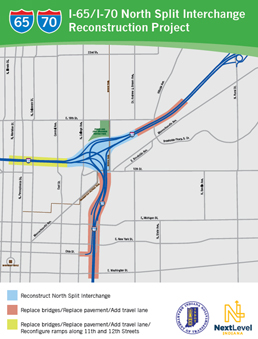 Click for larger view: The color-coded map above shows the kinds of work planned in and adjacent to the north split. (Image courtesy INDOT)
On Tuesday, the Indiana Department of Transportation shared preliminary information on its project plans, which involve adding lanes of traffic on both interstates; reconfiguring I-65 exit/entrance ramps along 11th and 12th streets; work on 32 existing bridges; and adding new bridges. (Click map at right for larger view.)
INDOT says the work is necessary now because the interchange is 50 years old and operating at its maximum capacity. About 170,000 cars pass through the interchange each day.
"As you can imagine, it's operating near the end of its useful life," INDOT Commissioner Joe McGuinness told reporters during a media briefing at the Indianapolis office of HNTB Corp., which is serving as technical advisor on the project.
As part of the project, the I-65/I-70 interchange will be completely reconstructed. State officials say they expect it to remain in the same basic footprint as the current interchange and are investigating ways to limit or avoid acquisition of additional right-of-way.
The project is fully funded through Gov. Eric Holcomb's Next Level Roads Plan, which includes $5.1 billion in road and bridge projects statewide over the next five years. Earlier this year, the Indiana General Assembly approved increases in gasoline taxes and vehicle registration fees to fund the plan.
But because the interchange project is in its very early stages, planners say they do not yet know how much this project will cost, when construction will begin or how long it will take. INDOT officials broadly estimated that the project could run $250 million, but cautioned that it was simply a preliminary estimate.
Preliminary design work is expected to be complete in mid-2018, with construction to begin somewhere between late 2019 and 2021.
"Because we don't have a design completed, we can't really say, 'Here's how much it's going to cost,'" said Seth Schickel, a project manager at HNTB.
Some work already has begun, including topographic surveys and environmental assessments. INDOT is also doing traffic modeling that will help determine the best alternatives for reconstructing the interchange. 
INDOT may have to close portions of the interstates and ramps during the work, Schickel said, and some cross-street traffic will also be impacted, but it's too early to know specifics.
INDOT will begin hosting open houses early next year so members of the public can learn about the project and ask questions.
Please enable JavaScript to view this content.