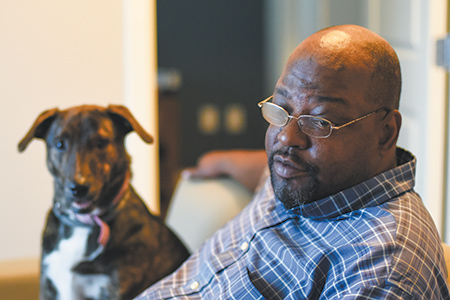 Penn Place, a 38-unit downtown apartment building for the chronically homeless that opened in January 2016, is Indianapolis' first project to employ a so-called "housing first" model, eliminating requirements—including sobriety—that could deter some homeless people from moving in.
The approach already is paying dividends, according to a first-year study by the Indiana University Richard M. Fairbanks School of Public Health, which found residents experienced a sharp drop in incarceration and use of emergency medical services and a sharp increase in incomes.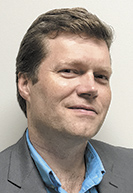 Witchey
"It's very much about harm-reduction philosophies," said Alan Witchey, executive director of the Coalition for Homelessness Intervention and Prevention. "Clients aren't asked to stop using or drinking when they go into housing. This allows people to have a more immediate access to housing."
Advocates for the homeless say Penn Place, 1415 N. Pennsylvania St., is one of several examples of progress in the city's war on homelessness—an effort they credit Mayor Joe Hogsett with helping to champion.
After years of feeling city leaders neglected the issue, advocates were pleased that the mayor in his State of the City address in April vowed to create more permanent housing for the chronically homeless.

Deputy Mayor Jeff Bennett told IBJ the city has identified 200 vacant or turning-over rental units so far that will be converted to permanent, supportive housing for people on the city's housing waiting list
He said the hope is that residents will be able to move in by the end of the year. Hogsett said in his speech he wanted to be able to house 400 more people.
"Four hundred units in a year won't solve homelessness, but it will give us movement within the system we've never had before," Bennett said. "We can make homelessness very short-lived, rare and recoverable."
About 12,000 Indianapolis residents experienced homelessness at some point last year, according to CHIP, with various levels of need. Diversion to homes of family or friends, shelters, transitional housing, and rapid-rehousing rental assistance help most of those people get back on their feet.
But permanent, supportive housing remains the best option for some, including the chronically homeless and those with severe health concerns. An April analysis commissioned by CHIP found the city needs 692 permanent supportive housing units available for move-in each year to keep up with demand.
"We know that we have a very high need for housing," CHIP's Witchey said. "It can be done. It's a matter of bringing the right people together."
Another sign of progress is that the city, in partnership with the Indiana Housing and Community Development Authority, earlier this month chose four developer teams that will create a combined 125 permanent housing units for the homeless as part of new affordable-housing developments.
The developer teams are Mercy Housing Lakefront and MACO Development Co. LLC, Merchants Affordable Housing Corp. and Insight Development Corp., Volunteers of America of Indiana and TWG Development LLC, and Meridian Health Services and UP Development LLC.
Those units are likely to come online in 2019 and 2020.
Janine Betsey, president of Carmel-based Merchants Affordable Housing Corp., said she believes the effort will aid the city's "absolutely attainable" goal to reduce chronic homelessness.
"They could be living in shelters; some of them are on the street," Betsey said. "We're trying to see how we can provide high-quality housing to some of our most vulnerable in projects that offer other affordable units and really provide services so those families can advance."
Bennett said the city is thinking more strategically—especially in its conversations with developers—about how to attack this problem.
"We're already having these conversations, anyway. It becomes a very easy conversation talking about this in the context of mixed-income housing. We can say, 'We're interested in your project, but have you thought about dedicating 10 percent of your units to permanent supportive housing?'"
Gary Hobbs, CEO of Indianapolis-based BWI LLC, the developer of Penn Place, said he is encouraged by the success of that project and that more developers are interested in providing housing for the homeless.
"It has been really, really powerful to see the collective effort from case managers, and volunteers, and various people engaging with our neighbors," Hobbs said. "The success as I see it today is, we have a group of team members here who are not giving up. We're seeing results."
Indianapolis was somewhat late to the game in deploying the "housing first" approach, which already has gained traction in other cities, CHIP's Witchey said. While the approach removes barriers that might deter the homeless from accepting housing, it also provides residents with services to help them become self-sufficient.
Despite the evidence of success elsewhere, people were "very reluctant, very nervous, because people would have this perception that, if we didn't have rules or restrictions, that the client would fail," he said.
"What we've found is, that was not the case at all. People were, in fact, incredibly successful when they were given the housing-first model."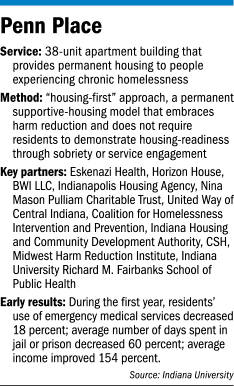 During the first year at the development, researchers from the Fairbanks School of Public Health found residents' use of emergency medical services decreased 18 percent, the average number of days spent in jail or prison decreased 60 percent, and the residents' incomes improved 154 percent.
Witchey hopes those results show there can be "dramatic savings to the taxpayers and community" by housing the chronically homeless.
Greg Morris, a Penn Place resident since it opened, said the opportunity to have "my own place, my own front door" was like being "given a gift."
Morris, 51, who spent years living on the street and in abandoned homes, said he has been able to better manage his health concerns—including diabetes, COPD and emphysema—since moving into his apartment. Eventually, he wants to be able to work a part-time job.
"I'm floating," he said. "I want to be able to paddle. I want to be able to swim."
Hobbs said he hopes Penn Place will be an example to other developers that "it really does benefit communities when we can get more and more people off the streets into affordable housing" with strong support services.
"There is still a huge need," Hobbs said. "Penn Place is only 38 apartments. We're encouraged to see other developers look at more of this integrated housing model to try to attack homelessness. I ultimately have to give credit to the mayor in setting the tone."•
Please enable JavaScript to view this content.