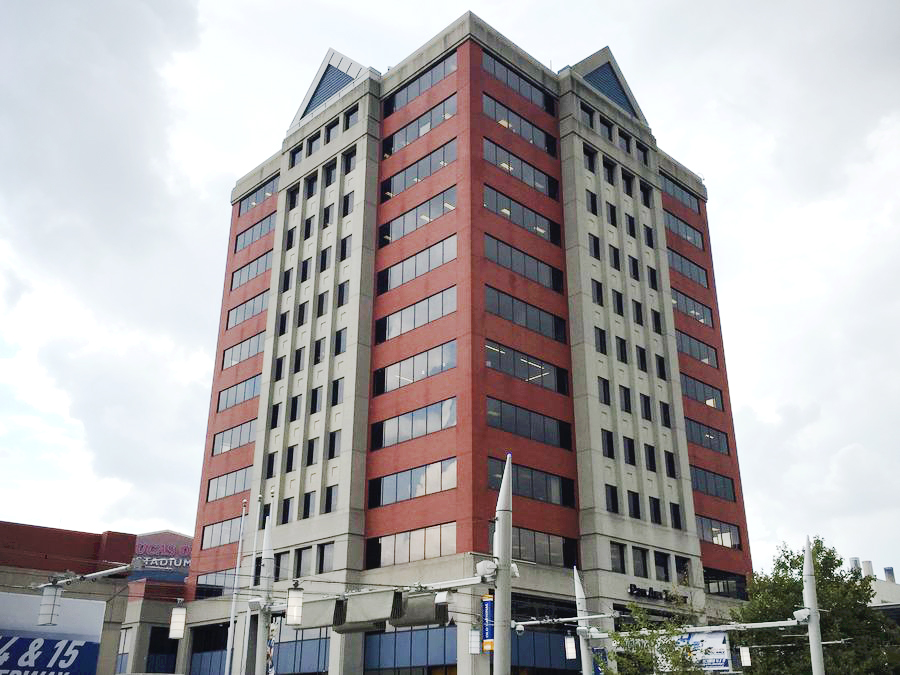 The longtime owner of downtown's Pan American Plaza wants to sell the 12-story building, which was constructed in 1987 as part of the city's role as host of the Pan American Games that year.
Sacramento, California-based Coastal Partners LLC has listed the building at 201 S. Capitol Ave. for sale on its website without a price. At 138,800 total square feet, Pan American Plaza is downtown's 19th-largest office complex and was constructed to provide office space for amateur sports organizations.
Calls to Coastal Partners' local and California offices seeking comment on the listing were not returned.
Coastal Partners bought Pan Am Plaza for $8 million in 2003 from the not-for-profit Indiana Sports Corp., which developed the building. Five years later, it lost three of its higher-profile tenants: USA Gymnastics, USA Diving and U.S. Synchronized Swimming.
The building is 85 percent occupied, according to the most recent IBJ statistics, and counts the Indiana Sports Corp., cloud-computing service provider Appirio and marketing firm Bohlsen Group among its major tenants.
Landing Appirio in 2012 was a coup for the Pan Am building. The San Francisco-based company said then that it planned to spend $2 million to open its office and would employ 300 people by 2015.
The building is part of a block that has been subject to much scrutiny in recent years. Besides the office building owned by Coastal, the area generally known as Pan Am Plaza contains an underground parking garage and large public gathering space with separate owners. New York-based Dali Associates LP owns the garage, and locally based Kite Realty Group Trust has an 85 percent stake in the outdoor plaza space. Coastal Partners owns the remaining 15 percent.
Kite has considered several developments for the site. In 2014, IBJ reported that the developer was floating plans that called for two hotels, residential units and restaurants spread across two towers as tall as 20 stories each. To date, no definitive plans for the site have been announced.
Pan Am Plaza cost $35 million to build in 1987 and represented a major step in the evolution of Indianapolis into a sports town worthy of hosting a Super Bowl. When it opened, it served as the media center for the Pan American Games. The Indiana Sports Corp. promoted it as a permanent tribute to the games and a symbol of Indianapolis' claim to being the amateur sports capital of the world, according to "The Encyclopedia of Indianapolis."
Contributions from the local business community and the city itself made the project possible.
In its marketing materials, Coastal Partners boasts that the Pan Am building provides on-site conference and fitness facilities, and is located just a block from Lucas Oil Stadium and Circle Centre mall.
Adam Broderick, an office broker at JLL, said Coastal Partners has done a good job leasing the property and setting it up for new ownership.
"Pam Am Plaza is a unique, well-located asset," he said. "The smaller [12,000-square-foot] floor plates give users that ability to occupy a full floor they wouldn't get in a traditional tower with 19,000-square-foot floor plates, and the sight lines are not blocked by surrounding buildings."
Please enable JavaScript to view this content.