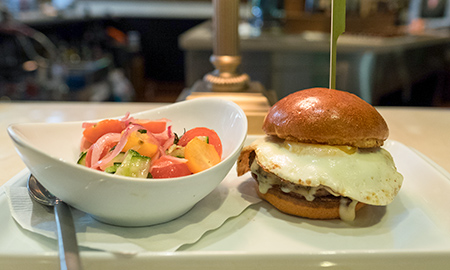 I'm not in the business of grading restaurants. However, when a new place calls itself Burger Study (28 W. Georgia St., 317-777-7770), fills its menu with offerings such as the Double Major and the Semester at Sea, and creates an atmosphere of an Ivy League drinking club, well, it's time to put it to the test.
1. Burger Study is the latest restaurant from the folks behind…
a. St. Elmo and Harry & Izzy
b. White Castle and Dog n Suds
c. Central Perk and The Peach Pit
2. True or False: You can get St. Elmo steak and shrimp cocktail at Burger Study.
True      False
3. The waitstaff at Burger Study wears…
a. Pledge pins       b. Bow ties and neckties       c. Letter sweaters
4. Fill in the blank: The Blistered Shishito Peppers ($7) are…
a refreshing appetizer, especially dipped in the sesame ponzu.
5. Which disappeared quicker during our meal?
a. slightly crunchy on the outside/moist on the inside Fried Avocado Wedges ($8)
b. overcooked Fresh Cut Fries ($3)?
6. What should you do with the extra cheese at the bottom of your bowl of Mac 'N Cheese ($6) once you have happily consumed all the pasta and Applewood smoked bacon?
Dredge your Tots ($3) through it.
7. Essay question 1: What can you get at Burger Study that you can't get at other burger joints? The two show-off sandwiches here are the Prime Degree ($19), with smoked bacon, black pepper BellaVitano cheese, and black pepper aioli in addition to the usual lettuce and tomato; and the Doctorate ($30), with dry-aged beef topped with foie gras, triple-creme whipped brie, arugula, Dijon mustard and caramelized onion.
8. Essay question 2: So how were the burgers? With Gruyere cheese, Dijon mustard, bacon-onion jam and bechamel sauce, the French ($13) sounds overly busy. But the combination works well together, as does the root-beer-glazed bacon and smoked Gouda cheese on the Homecoming ($13). Usually, the turkey burger is a second-string offering, but the non-beef-eater at our table raved about the Stanford ($12), which included havarti cheese, smashed avocado, alfalfa sprouts and tarragon mayo. Tip: In all cases, it's best to cut these burgers in half and handle each side separately. The fact that the bun has enough give is a big advantage when trying to get the best mix of flavors in each bite.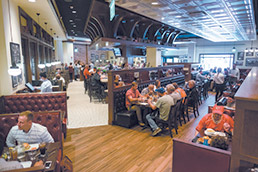 Interesting angles define the interior of Burger Study. (IBJ photo/Eric Learned)
9. Essay question 3: Should you opt for the B.Y.O.B. Burger ($9)? If so, why, and how does it work? The build-your-own option is worth it if you want to keep your sandwich under $10 or if the eight other beef burgers on the menu aren't to your liking. Just know that, if you add such toppings as a fried egg, root-beer-glazed bacon, guacamole or cheese or if you put it on a brioche sesame-seed bun, there are upcharges that could take it over the cost of one of the signature sandwiches.
10. Complete the following equation: When it comes to dessert … Vanilla Shake ($6) < Chocolate Shake ($6) < Caramel Shake ($6) < Bourbon Salted Caramel Shake ($12) featuring St. Elmo Eagle Rare Private Selection Bourbon.•
—Lou Harry
Please enable JavaScript to view this content.