Central Indiana is facing crunch time in its push to bid for the Amazon HQ2 project, with pitches to the Seattle-based company due Oct. 19, less than two weeks away.

A "small, diverse group of business and private stakeholders" coordinated—and funded—by the Indy Chamber are guiding the bid effort, but much of their work is behind the scenes.

Fishers Mayor Scott Fadness said the push is an "all-hands-on-deck" effort, and that he has been "overwhelmed by the desire by central Indiana to come together on this."



But chamber officials wouldn't comment about their work on the proposal, saying the secrecy is needed "to maintain the confidentiality of information on this economic development project." And many other individuals involved declined to talk to IBJ, with one saying he couldn't discuss the project because he'd signed a non-disclosure agreement barring him from doing so.

A degree of confidentiality is not surprising, as the prospect of alluring this particular economic development deal is fiercely competitive. Dozens of cities have expressed interest, and it's clear why: Amazon expects its new headquarters to create 50,000 jobs with an average annual compensation of $100,000, and spur $5 billion in capital expenditures.

In the weeks leading up to the proposal deadline, local leaders observing and involved in the effort described to IBJ a rush to gather information about potential sites, educational options, housing stock, available incentives and other elements outlined in Amazon's seven-page "request for proposals."

The team is tasked with putting together a proposal that lives up to the tech company's request to "think big and be creative."

"The actual substance of our proposal needs to be very innovative," Fadness said. "I think we've made significant progress."

But he said he was "not at liberty" to discuss details.

"This isn't so much like a Super Bowl bid where you're very public," he said. "This is an economic development proposal, so I can't really comment on the specifics of the things we're discussing."

Fadness said the biggest focus for the team is on three elements that "rule you in or out of any economic development deal": real estate, workforce and economics.

Developing an effective bid is a big job, Indianapolis Mayor Joe Hogsett told reporters at a recent briefing. So the city hasn't been able to size up the competition from other cities.

"We really don't have time," Hogsett said. But in providing information to the Amazon site selectors, those involved are "trying to be as holistic as we can be."

Leading the charge

Neither the Indy Chamber nor city officials have said how much it will cost to submit the region's bid. But city officials said "no city tax dollars will be allocated for this project."

Hogsett spokeswoman Taylor Schaffer said those involved in the effort are "offering their time and expertise at no cost to the city or the chamber."
Among them are what the chamber has described as co-chairs of the bid task force: the Indianapolis and Fishers mayors, Knowledge Services CEO Julie Bielawski, Eli Lilly and Co. Vice President Alonzo Weems, Cummins Inc. Vice President Marya Rose and Torchlite Marketing Executive Chairman Scott McCorkle.

Hogsett said that, although officials are using the RFP as a guide, putting together a bid is challenging because they don't really know much about what the company wants.

"Really, all we know is what we can see from what their past has been," Hogsett said.

That hasn't stopped them from trying to find out. By chance, a delegation of more than 100 Indy Chamber business, civic and community leaders was already scheduled to take a short trip Sept. 17-20 to Seattle for the group's annual Leadership Exchange. The trip included talks with Amazon officials.

According to an agenda posted online, participants attended a session called "Amazon's built environment" that featured Kathleen Carroll, a director of talent acquisition, operations management and recruiting for Amazon. Another session was led by Juan Garcia, global leader for career advancement for Amazon.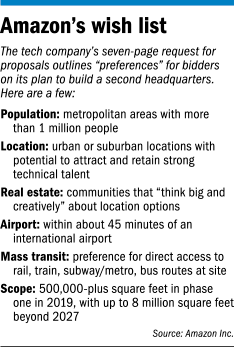 And during "free time," attendees were encouraged to take part in a self-guided tour of the Amazon campus.

"The trip had been planned starting almost a year ago and was not in response to Amazon's HQ2 announcement," said Indy Chamber spokesman Joe Pellman. "Discussions during this trip included the topics of inclusive economic growth, transit and innovation."

But the visit doesn't make Indianapolis unique. A delegation from Chicago has also been to Seattle to visit the Amazon campus, and Chicago Mayor Rahm Emanuel has reportedly talked to Amazon CEO Jeff Bezos about locating HQ2 in the city. Philadelphia and Ottawa, Canada, are among cities that have sent officials to Seattle as well. Others are reaching out to Amazon officials through social media and web videos. And Gary, which is making a long-shot play for HQ2, even took out an ad in The New York Times.

Gary Mayor Karen Freeman-Wilson told IBJ that the region's effort "is real" and officials there also have some secret, unique elements in their application. "We think we have a win-win here with the Indiana business climate and the Chicago-area amenities," Freeman-Wilson said.

State effort

While regional leaders are combing and sorting through information about local amenities and logistics, state economic development officials are working through a more expensive question: What kind of incentives can they offer?

Indiana Economic Development Corp. President Elaine Bedel said the state is "working very closely with both central Indiana as well as northwest Indiana as they both go through the processes."

Bedel said "the governor is very excited and involved with this" and that the state wants to put its best foot forward. But she said state officials are trying to sort through the economics because "there's a limit to what you can do and still be smart about it."

Bedel said the state hasn't arrived at a specific dollar amount—or equivalent in incentives—that it can offer Amazon. But she said the transformational opportunity means that "you as a state can afford to put in a little bit more incentives because you know it's going to pay off."

"We would do our traditional tax incentives and we will think creatively about, 'Is there anything else we can do?'" Bedel said. "It's not like they've given us any other number that might help us understand if there's a [financial] gap they're trying to fill. That's really a little bit of an unknown area."

Experts say a successful bid is likely to exceed the $3 billion in incentives over 15 years that Wisconsin offered Taiwan-based Foxconn to locate a $10 billion, liquid-crystal display plant in the state.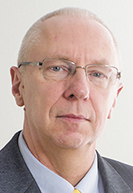 Walton
Already, New Jersey lawmakers are considering legislation that would allow the state to offer Amazon an incentive package worth $5 billion—or about $10,000 per job. That would double the cap the state has on incentives now.

And Amazon has indicated such incentive packages will matter. In its RFP, the company said tax credits and exemptions, grants and fee reductions "are critical decision drivers."

Former Gov. Mitch Daniels, now president of Purdue University, said "if this thing ever got really serious, there will be an argument [that] this is qualitatively different … that it merits greater public support."

But Daniels said those negotiating the deal should hammer home Indiana's attractive business climate and avoid "giving away the farm."
"When we were competing for Honda, Toyota, for a host of businesses, over and over somebody else was offering more goodies, but Indiana prevailed because we knew the real basis of the decision is not a few benefits that go away, but your long-term business prospects," he said. "What taxes are you going to be paying? How smart or dumb is the regulatory system? The legal system? How good is the infrastructure?"

Multiple rounds?

Bedel said the bidding process is likely to include at least two rounds. The second would allow incentives to be tailored to the specific locations chosen by Amazon in the event the company is interested.

The first hurdle, she said, will be offering "a package of incentives that meets the minimum bar."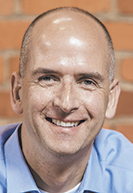 Cook
But there's a risk. Tim Cook, CEO of KSM Location Advisors, said local officials are probably trying to figure out whether to put "everything on the table" in the initial bid or hold something back for subsequent rounds.

Cook said he would be hesitant to do the latter. "I think competition is going to be so fierce that, if you don't have a really strong proposal right out of the gate, you run the risk of not getting to the next round."

Cook, who said his firm is serving as an "informal resource" to the central Indiana effort but isn't officially involved, said the tallest order for the region will be to demonstrate early on that it can satisfy Amazon's workforce-size qualifications.

Amazon says it will consider metro areas with a population of more than 1 million (the combined Indianapolis-Carmel-Muncie area has nearly 2.4 million people). It also said a "highly educated labor pool is critical" and that the company must be able to attract and retain "technical talent."

"We're still going to be on the small side when you look at some of the biggest cities we're competing against," Cook said. "If Indy can't demonstrate that right off the bat, I think we fall off the list right away."

Dazzle, but don't deceive
Culp
Another key challenge is putting together a "dazzling package" that's "attention-grabbing," said Katie Culp, president of KSM Location Advisors.

Indy Chamber's Pellman did not provide IBJ any clues about what the creative element of the bid presentation will include.
Jim Walton, CEO of economic development marketing firm Brand Acceleration, said the bid should above all be substantive and honest.

It will be obvious, he said, if the city tries to paper over a weak spot, like the Indianapolis International Airport's relative lack of nonstop international flights. It's best to acknowledge your shortcomings.

"It's not good enough to say we have a flight to Paris," Walton said. "As far as how you mitigate it or spin it, you don't. If you try to spin it, you'll be seen as deceptive."

Allison Melangton, who worked on three of the city's Super Bowl bids and is now senior vice president of Hulman Motorsports, urged local leaders to be "as creative as possible, as detailed as possible, and as aggressive as possible."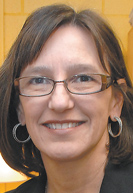 Melangton
"Those three put together, you're going to be competitive," Melangton said. "It's going to be a competitive bid with lots of communities and states that are aggressively trying to secure this business."

She said that, though the timeline for the Amazon bid is tight, "it's definitely doable with subject-matter experts."

"I'm 100 percent confident they're all working closely together and probably working a ton of hours, but also doing something really important," she said. The bids are "fun to work on."

Cook said it will be tough to do "the real evaluation of what this process looked like" and measure whether the bid was effective until after Amazon's decision. "If Indy wins, nobody will argue with any aspect of it," Cook said. If not, "people will say, 'Did we put the best foot forward?'"•