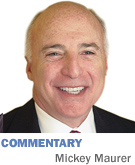 Willy Wonka, aka Jeff Bezos, has a golden ticket for only one of the many cities spending time, energy and wheelbarrows of cash to land the $5 billion Amazon second headquarters, known as HQ2.
There is much at stake, not just 50,000 jobs, but the transformative effect a major presence of one of the largest and most successful businesses in the world will have on our community. Do we have a chance? Among the listed criteria are access to higher education institutions, financial incentives and the ability to source a trained workforce. We can satisfy these criteria. We are also business friendly. Former Gov. Mitch Daniels, commenting on laws and regulations in Indiana, often says, "We have a great sandbox in which to play." But if Amazon is looking for a cultural fit, we have some explaining to do.
In 2006, our team at the Indiana Economic Development Corp. negotiated with hundreds of companies in an effort to persuade them to invest and create jobs in Indiana versus another state or country. Often the companies we worked with were represented by site selectors. Some of these firms confided that Indiana did not make the cut because we failed to enact "right-to-work" legislation. They confided that about one-third of the companies they represented limited their search to right-to-work states. Although we were successful when we had a chance, we were missing a lot of "at bats" because we didn't meet a basic criteria, right-to-work (which Indiana ultimately adopted in 2012).
I fear that such is also the case in our quest to land HQ2. It's not right-to-work this time. It is our reputation for hostility to gays, immigrants and women.
Just this year, Senate Enrolled Act No. 404 tightened abortion restrictions one more notch. Before the ink dried on Gov. Eric Holcomb's signature, the law was found to be unconstitutional. Indiana Attorney General Curtis Hill stated he will use our taxpayer dollars to appeal. Indiana's abortion law already placed an unreasonable and unconscionable burden upon educated and responsible health providers and went beyond the boundaries of healthy debate.
Our immigration policy in Indiana is deplorable. In 2014, then-Gov. Mike Pence, in a letter to President Obama complaining about 245 desperate children seeking refuge in Indiana, said, "The refugees should be treated humanely and with decency and respect but they should be returned expeditiously to their home countries to be reunited with their families rather than being disbursed around the United States in sponsored placement or long-term detention facilities." Many of the children seeking refuge in Indiana were fleeing gang violence fueled by drug wars in the murder capital of the world, Honduras. In November 2015, Indiana refused to accept refugees from war-torn Syria, pre-empting and violating both equal protection and civil rights laws.
It's also regrettable that we just can't seem to cast aside the tired rhetoric of a bygone era and respect and support all Hoosiers regardless of sexual persuasion. Our political leaders pushed hard for an exclusionary definition of marriage until the Supreme Court closed them down.
Technology workers tend to be young. It is this census that would likely find our attitudes on social issues to be questionable, if not intolerable. According to many surveys, this young culture does not share Indiana's position on transgender rights, women's rights and immigrants in flight.
Will any of this really make a difference to Amazon? Maybe not. Amazon is considering venues as toxic as our own, including North Carolina and Texas. Salesforce, and other major employers to which these issues are important, has continued to add to its ranks in Indiana. Business leaders in central Indiana, as opposed to our elected officials, have campaigned on the right side of history on each of these issues.
Amazon applauds diverse perspectives on gender, national origin and sexual orientation. After all the boxes are checked, there will be a number of cities largely meeting the prescribed criteria. From among those, Amazon will elect to bestow HQ2 on a city that either shares or will embrace Amazon's social values. In order to win the golden ticket, we need to address this issue.•
__________
Maurer is a shareholder in IBJ Corp., which owns Indianapolis Business Journal.  His column appears monthly. To comment on this column, send e-mail to mmaurer@ibj.com.
Please enable JavaScript to view this content.