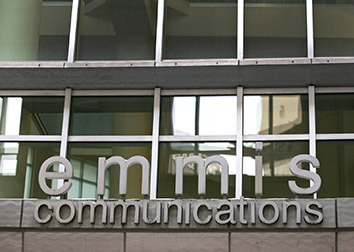 No one is calling the recent hurricanes that have battered Florida, Texas and Puerto Rico good news. But as a consequence of those major storms, the NextRadio service from Indianapolis-based Emmis Communication Corp. could get a big boost.
In a nutshell, NextRadio turns smartphones into FM radios. The NextRadio app captures FM signals via a chip that's already in all smartphones but isn't automatically activated.
Emmis Chairman Jeff Smulyan has been trying to broker deals for several years to get smartphone makers and cell carriers to activate the chip.
Apple, which appears more interested in selling its own music rather than allowing iPhone users to simply turn on the radio, has resisted Emmis' efforts, despite Smulyan's contention that activating the radio chip is important for public safety. He recently told IBJ that the need was demonstrated during the recent rash of hurricanes that rocked parts of the U.S. and Puerto Rico.
"When the power grid is down, there's no way to get emergency information through a cell phone network or the internet," Smulyan said, adding that getting television through cable providers is also impossible in those situations. "But commercial radio operators have emergency generators, and if a phone has its FM chip activated, it can be a vital tool for people to get information in the time of a disaster or other emergency."
On Sept. 28, with the recent hurricanes clearly on his mind, Federal Communications Commission Chairman Ajit Pai strongly urged Apple to flip on the FM chip in its iPhones. It's the first time Pai, who was recently confirmed by Congress to serve through 2021, has made such a hard push.
Pai isn't requiring Apple to flip the switch, but that's something radio industry officials think he might consider. Emmis has been willing to broker financial deals with other cell phone makers for them to turn their chips on, but Smulyan said that it's been "quite a while" since he or his staff have had any conversations with Apple.
Apple officials did not respond to requests for an interview for this story.
Emmis has been able to broker deals with many of the nation's top cell carriers—including AT&T, T-Mobile and Sprint—and smartphone makers such as Samsung, LG and HTC. Together, the agreements make most Android phones capable of capturing FM radio through the NextRadio app. (For a list of supported devices, click here.)
Now it appears Emmis is getting a major assist from Pai and at least one Florida senator.
"In recent years, I have repeatedly called on the wireless industry to activate the FM chips that are already installed in almost all smartphones sold in the United States. And I've specifically pointed out the public safety benefits of doing so," Pai said in a statement released last week.
"Apple is the one major phone manufacturer that has resisted doing so," Pai added. "But I hope the company will reconsider its position, given the devastation wrought by Hurricanes Harvey, Irma, and Maria. That's why I am asking Apple to activate the FM chips that are in its iPhones. It is time for Apple to step up to the plate and put the safety of the American people first."
Florida Sen. Bill Nelson also called on Apple to turn on FM chips in iPhones, which account for more than one-fourth of all U.S. cell phones. Consumer Intelligence Research Partners, a Chicago-based investment research firm, estimated more than 95 million Americans use iPhones.
While surveying the damage caused by Hurricane Irma, Nelson told WBBH-TV in Fort Myers, "There's got to be a way we can activate the [FM] chip [in iPhones]. … Consumers need critical information in times of emergency."
While Smulyan insists emergency preparedness is the No. 1 issue here, he admits it would be good for NextRadio to have all those iPhone chips turned on.
"If Apple flips the switch on the FM chip, it would make it universal," Smulyan said. "From that standpoint, it would be a big deal."
Radio stations are eager to reduce their reliance on streaming their programming over the internet, because the service is costly for them. And they of course welcome any new avenue to bring ears to terrestrial stations and increase listenership.
NextRadio is more than just a conduit for FM signals. Its software uses just a sliver of wireless data to give listeners an interactive experience, allowing them to do everything from tracking which songs stations are playing to buying concert tickets. Emmis officials and others say the service encourages radio listening throughout the day, expanding far beyond morning and evening rush hours.
Emmis is also hopeful that once a big enough mass of people download the app, the company will be able to sell advertising on it.
Fifteen million people have downloaded the NextRadio app, Smulyan told IBJ this week, and 15,000 to 20,000 per day continue to do so. That rate would certainly accelerate if Apple complies with Pai's plea.
"If the FM chips in iPhones were activated, that could pretty easily mean hundreds of thousands more people downloading the NextRadio app," said Robert Unmacht, a partner at RTK Media Inc., a Tennessee-based investment banking consultancy focused on broadcasting and technology. "And that could happen in pretty short order."
Please enable JavaScript to view this content.