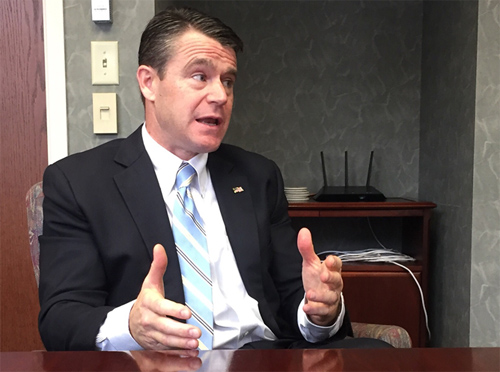 U.S. Sen. Todd Young says he is eager to accomplish tax reform—but he's not willing to "blow a hole in the budget" in the process.
Young—speaking to IBJ reporters and editors Tuesday about President Donald Trump's tax-reform plan—said he would not vote for a proposal that raised the deficit.
The Indiana Republican said he hoped lowering the corporate tax rate would lead to growth, which would help offset the cost of tax cuts. Growth, he said, "solves a lot of problems."
"We need to recognize there are growth effects of improving our tax environment. Otherwise, what's the point of this process?" Young said. "But we can't assume unreasonable rates of economic growth or we're being fiscally irresponsible. … My own party needs to be realistic with what can be accomplished through tax reform alone."
Young said that while he won't vote for a budget that increases the deficit, he couldn't identify one data source that would help him make that call. Instead, he said he will rely on multiple sources and engage experts, including "[pitting] some economists against one another."
He said that while the Congressional Budget Office, which scores all bills, is "supposed to be a neutral arbiter," he believed its approach should incorporate a dynamic analysis as opposed to a static analysis, which would incorporate larger macroeconomic effects of policies.
Young said some major details are missing from the bill, including what income ranges will be assigned to which tax brackets. That lack of information has prompted his Indiana colleague, U.S. Sen. Joe Donnelly, a Democrat, to withhold support, at least for now. Donnelly has stated that "the only plan out there is missing a lot of important details" and that "I'm not going to buy a car before kicking the tires."
Though Republicans are hoping to accomplish tax reform before the end of the year, it's unclear whether the proposal has enough support to pass the U.S. Senate. Young said he wasn't alone in his caucus in not wanting a tax reform bill to increase the deficit. And, like the health reform fight, losing just a few members of the Senate could prove to be the end of the bill, making Young's opinions especially relevant.
Young acknowledged "this is not easy in terms of strategy."
"It requires education and it requires leadership, which in a political context means sometimes telling people things they don't like to hear," Young said.
But he also said he was hopeful that the process would lead to "incremental wins." For instance, he said he hoped doubling the standard deduction has bipartisan support.
"If I am presented with a tax reform bill that's even marginally better than the convoluted, highly sub-optimal system, I'm going to vote for that reform bill," Young said.
Please enable JavaScript to view this content.