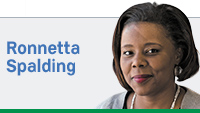 Like you, I am eager to pull up a seat to watch candidates throw caution aside in their political ads. It's like dissecting a mystery where you piece together parts of what the candidate says, what their opponents say about them, and what you end up believing.
It was hard not to watch a recent television ad supporting Rep. Robert Behning while painting his primary-election opponent, Michael Scott, as a "liberal politician." The ads aired days before the primary election, and despite their negative tone, no one raised questions about their truthfulness.
Most of us assumed the group backing Behning had weaved some facts and possibly lots of interpretation together to assert their own version of the truth. It might have worked. Behning did defeat Scott.
Other states are weaving their own truths, too. When I hear of our neighbors to the east fighting bans on political speech, and tossing First Amendment claims up, I start to wonder if my front seat ticket to the occasionally friendly he said/she said banter is in jeopardy. Maybe Ohio could take a political tip or two from us Hoosiers.
The Supreme Court will soon rule on the constitutionality of Ohio's law banning campaign lies. More specifically, whether the Susan B. Anthony List can bring arguments forward on violations to their First Amendment rights during Ohio's 2010 congressional elections. Susan B. Anthony List, the anti-abortion-rights group, attempted to blast then-U.S. Rep. Steve Driehaus, D-Cincinnati, for his support of the Affordable Care Act.
This attempt fell flat as one of the city's billboard companies refused to put the Driehaus ad up, and Driehaus subsequently filed a complaint stating that the billboard's message falsely accused him of backing taxpayer-funded abortions when public funds cannot be used for abortions.
And, ironically, the law was never enforced in this case since Driehaus lost his re-election bid, forcing officials to withdraw his initial complaint. No candidate, no billboard. So where's the harm?
Take a closer look. You'll notice the far-reaching implications of individuals and groups wanting to avoid any limitations on their free speech, even if the speech itself is not 100 percent accurate, or in the Driehaus case, potentially not true at all.
Should states be in the business of patrolling campaign ads, and is Indiana next? Probably not.
Laws that ban lying are unlikely to survive, according to Lee Rowland, a staff attorney with the American Civil Liberties Union. During our brief chat, Rowland acknowledged that states should not enforce their version of the truth when it comes to political ads.
The future of bans on political speech is clear—people and states will continue to pitch their own truths, yet the courts seem intent, at least for now, in holding up free speech even in the face of politics.
At least 15 states have passed similar legislation making campaign lies a criminal offense. Thankfully, Indiana is not one them. I don't expect, however, for the conversation about bans to cease. Look for continued debate about the right to run for office while candidates debate their version of the truth.
I always assume truth and lies coexist in the political arena. As voters, we have to go beyond what we see or read about candidates.
People and states will continue to pitch their own truths, yet the courts seem intent, at least for now, in holding up free speech even in the face of the shady nature of politics.•
__________
Spalding is executive director of the 51% Club, a project of the Indiana Democratic Party. Send comments to ibjedit@ibj.com.
Please enable JavaScript to view this content.