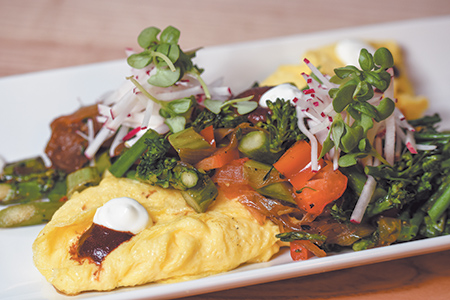 Doubling up on its investment in the Ironworks development at East 86th Street and Keystone Avenue, the Cunningham Restaurant Group has divvied up its dining day. At the boutique Ironworks Hotel, it recently opened the high-end Provision restaurant for dinner and the daytime-focused Rize, billed as a "brkfast-lunch-cater."
Don't let the missing breakfast vowels fool you, though. At Rize (2721 E. 86th St., 317-843-6101), there's no need to rush through your meal. This farm-to-table spot, with an atmosphere that gently pushes faux country without crossing the line into Cracker Barrel territory, is great for a leisurely business lunch or brunch escape. And the creative menu won't make you feel the need to overload with syrup.
Let's start with drinks. You can try fresh-squeezed orange, apple or tomato juice (a pricey but not surprising $7) or, for the same coinage, a smoothie. The quartet of smoothie offerings includes Hazelnut, Supergreens and A Taste of Thailand, featuring coconut, apple, vanilla, cinnamon and maple syrup.
We went with the Fizz ($3.50), a combo of fresh-pressed juice and sparkling water. The citrus and lavender honey Fizz was as tasty as it was aromatic, with the honey standing out strongly. Imagine what a Halls honey/orange cough drop would taste like without the menthol. And I mean that in a good way. The Strawberry Mint version was subtler, like a significantly better version of the complimentary fruit waters available in many a restaurant lobby.
Rize Toasts are a menu category here, but don't expect the standard buttered-and-jellied side dish. Honeycrisp Apple Toast ($9) featured slices of apple atop cereal bread, dressed with peanut butter, chia seed, Kenny's bleu cheese, honey and five-spice peanut. There are also pistachio crumbles on top, and house-grown micro greens. The combo of peanut and peanut butter tipped the scales in flavor but not at the expense of the other smartly chosen ingredients. Delicious.
Banana Waffle ($10) was served with sliced banana and fried sweet plantain, plus caramel sauce and sea salt butter. The sea salt butter single-handedly swung the waffles from sweet to (sort of) savory, which was fine. After polishing them off, we didn't have that sickening, cloying feeling one gets from eating breakfast in some cheaper joints. You could go to work afterward without feeling ashamed of yourself.
Segueing into lunch choices, the Garden Frittata ($12) included decidedly non-breakfasty toppings of broccolini, asparagus and caramelized onion, along with bell pepper, spinach herbs and harissa sauce. Of course, all of this could have been stuffed into an omelet, but liberated in this way made the dish more attractive and the veggies crisper.
Nice touches accentuate Rize, from the folded newspapers available on the counter to the coconut scent of the restroom. And that board on the wall isn't a list of daily specials; it's a shout-out to "Farms and Friends" suppliers, including Gunthrop Farms, Blue Dog Bakery, Tulip Tree Creamery and Eisele's Honey.
Their ingredients are in good hands … on their way to satisfied stomachs.•
Please enable JavaScript to view this content.