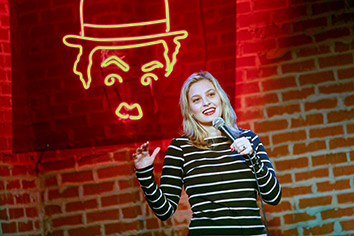 Touring comedians no longer will be visiting Broad Ripple to perform their stand-up acts.
Crackers at 6281 N. College Ave. has closed, owner Ruth-Anne Huber-Bunting confirmed to IBJ on Friday. Friday and Saturday shows for comedian Dave Dugan have been canceled.
Huber-Bunting said the decision to close was difficult.
"In a nutshell, it was a very hard, hard emotional decision," she said. "Comedy is my entire life."
But with a 16-year-old daughter and her father in a nursing home, she chose to close the Broad Ripple location and keep the downtown club at 207 N. Delaware St. open.
Crackers moved to Delaware Street in 2015 after closing its location at 247 S. Meridian St.
"You get to that point where you're like, one has to be shut down for my family situation, so I'm not killing myself," Huber-Bunting said. "I had to pick one over the other."
All 15 employees will make the move from Broad Ripple to downtown. Only a few workers remain there, after she "cleaned house" and let several go for performance issues, she said.
Crackers opened in Broad Ripple in 1982, moved to the Fashion Mall in 1984 and returned to Broad Ripple in 1999.
Huber-Bunting told IBJ in 2010 that the business was able to survive the recession, when other local comedy clubs couldn't, on its reputation for quality talent.
"Good service and sticking to what we know, which is comedy," Huber-Bunting said. "I think those are big things."
After the comedy-club boom of the 1980s, Indianapolis still was able to support several outlets. That was due in large part to Q95's "The Bob and Tom Show," which for decades has made a point of featuring visiting comics on the locally based radio morning show.
The recession, however, took a toll on comedy clubs. One-Liners Comedy Club in Greenwood shut down in June 2008 after 15 years. Morty's Comedy Joint, an upscale club that had opened on 96th Street in 2006, closed in early 2010. It was revived several months later under new ownership and in 2016 moved to an outlot building at 3824 E. 82nd St. formerly occupied by Don Pablo's.
Chubby's Comedy Club opened in April 2016 at 1026 Virginia Ave. in Fountain Square but closed the following October.
Please enable JavaScript to view this content.