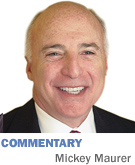 65 – 43 = 21
While Janie and I enjoyed dinner this summer with Will Shortz near his home in upstate New York, he wrote the above equation on a napkin and passed it across the table. More on that later.
Shortz, a fellow Hoosier, was born in Crawfordsville and graduated from Indiana University. His self-created major, enigmatology, prepared him for his current position, The New York Times crossword puzzle editor. You may also know him as the puzzle maven on the Sunday morning NPR radio show.
Shortz and I meet a few times a year, often when he returns to Indiana to visit family or to participate at IU in a variety of programs. He has also presented at Mickey's Camp. He is proud of his Hoosier heritage. His declared intention is to donate his trove, the world's largest collection of written puzzles, to the university.
Shortz has the unenviable task of rejecting piles of crossword puzzle submissions every week, which he does with humility and grace. I know. I have been in the rejection pile many times. He also has published more than two dozen of my constructions, not including three in the queue. It wasn't easy; he has high standards. It is a pleasure to work with him, a treasured friend.
Shortz has a wide range of interests. He is a strong recreational table tennis player who boasts of playing more than 1,000 days in a row. His daily routine includes a "ping pong workout" at his table tennis academy in upstate New York.
At dinner, we discussed current topics, including politics. President Trump is a puzzlement for both of us. Inevitably, the conversation turned to puzzles, for which there is no one better at creating and solving than Will Shortz. According to Shortz, with all the problems that humans face in everyday life you wouldn't think we would need to make more (just for the fun of it) but we do, because solving problems and puzzles is part of our DNA.
Shortz is gifted with intelligence and creativity. I say gifted because these qualities cannot be taught. In fact, the mechanism may not even exist to accurately test creativity at the basic intelligence level, but I believe it has to be exercised to increase it—like muscle tone. Intelligence is necessary but not a sufficient condition to assure success in business. Add creativity and chances for success are greatly enhanced. We need to seize opportunities to think creatively—to interrupt the normal routine and rev up our brains. Puzzles, problems, games and dinners with Will Shortz create exactly that.
Shortz and I enjoy sharing riddles and puzzles. Take a look at the numbers at the top of this page. They constitute a challenge presented to Shortz by Zack Guido, a friend at the Table Tennis Academy. Sixty-five minus 43 obviously does not equal 21. It equals 22. The challenge is to move two digits and only two digits to create an equation that, in fact, does balance. You cannot change the minus sign or the equal sign. The solution contains each of the digits: 6, 5, 4, 3, 2, and 1. No digit can be repeated.
All bright readers may not be able to solve this problem right away. Shortz admitted that it took him awhile to find the answer, which he stated "presented an elegant solution." It took me a few minutes as well. As you manipulate the numbers, you may come up with a set of numbers that will leave you one off in either the ones or tens place. Keep trying. If you are creative, you may experience that flash of insight that will set you up for success.
If you want a hint or have any questions with regard to the riddle or wish to either request or offer a solution, email me at the address below.•
__________
Maurer is a shareholder in IBJ Corp., which owns Indianapolis Business Journal. His column appears every other week. To comment on this column, send email to mmaurer@ibj.com.
Please enable JavaScript to view this content.