Indianapolis International Airport officials want to put more food and merchandise (especially local food and merchandise) where more people want to buy it—and that means past the security checkpoints, closer to the gates.

The underlying concept is nothing new. Back when the airport authority designed the current terminal—which opened in 2008—planners knew that tightened security post-9/11 meant travelers worried about missing flights and didn't want to stop for food or browse shops until they were near their gates.

Turns out, that's even truer than expected.
Sales per square foot last year averaged $978 at the restaurants and retailers beyond the airport's security checkpoints—about 85 percent higher than the $527 in Civic Plaza and in baggage claim, which are non-secured areas.
So as vendor contracts expire—and a slew of them lapse at the end of 2018, a decade after the terminal's opening—airport officials are embarking on a project to freshen up the offerings and make more retail available on the terminal's concourses, starting in 2019.
A key goal of the revamp includes showcasing more local businesses. Only about a third of concession locations are currently filled by vendors with a local connection.

Airport officials also hope to increase the number of fast-casual food options (something more than McDonald's but less than a full-service restaurant) and fill in gaps in what's for sale in airport shops.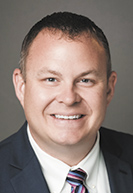 Shaw
"We're going through space planning literally as we speak," said David Shaw, director of concessions and air services at the Indianapolis Airport Authority. "All options are on the table right now."

On Nov. 8, the airport will host an all-day information session for businesses interested in concessions opportunities. The airport plans to solicit proposals in January, with the goal of selecting vendors and awarding lease contracts during next year's third quarter, Shaw said.
The current vendor lineup includes numerous local names, like Cafe Patachou, which has several locations across the city, King David Dogs, 96th Street Steakburgers, Harry and Izzy's, and Shapiro's Deli.

Some vendors with a local connection exist only at the airport, including the Indy 500 Grill, Enroute Spa and Cultural Crossroads, which sells items from area museums.

The airport hopes to bring even more local vendors into the mix. During the last decade, Shaw said, customers have shown a growing preference for local products. Also, using Indiana-based vendors could help boost the local economy while giving the airport a unique atmosphere.

"When people land in Indianapolis, if they've never been in Indianapolis, we want them to know they're in Indianapolis," Shaw said.

The airport is also considering new ways to showcase local products and brands, he said. One idea is to add a space that would potentially house a variety of local vendors, similar to a farmer's market or the City Market space downtown. The featured vendors might even rotate.

But the airport doesn't intend to abandon national retailers altogether.

"We are an international airport, and it's important for us to have recognizable brands," Shaw said.

Finding a balance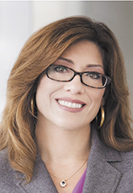 Andolino
Seeking a mix of local and national vendors makes sense to Rosemarie Andolino, the Chicago-based CEO and president of airport services firm MAG USA. Andolino is also a former commissioner of the Chicago Department of Aviation.

Some travelers who might not otherwise spend money at the airport might be lured by a local concessionaire they haven't seen anywhere else, Andolino said. Others prefer to stick to national chains.

"It's trying to strike a broad appeal so that you can target many," she said.

But there's no rule of thumb to help determine the right mix, she said. Each airport operation is different; what works at one place might flop elsewhere.

"They say in the industry, 'If you've seen one airport, you've seen one airport,'" Andolino said. "Each airport is tailored to the community they're in."

Portland International Airport, which is at the tail end of a concessions redevelopment that began in 2013, tried to strike a local-versus-national balance in its efforts.
The airport added a handful of vendors and focused on local offerings but kept national names, said Shane Andreasen, senior manager of concession development at the Portland airport.

"Portland itself is very, very focused on small business and local. We've tried to kind of emulate that here at the airport," Andreasen said.

At the same time, he acknowledged, the big names still have a place at the table. "We have McDonald's and Starbucks because I think you have to have a balanced offering."

Portland has seen an uptick in concessions sales in recent years.

Average spending per departing passenger grew from $11.33 in 2013 to $12.91 in 2016, Andreasen said, although he could not say how much of that increase came from the concessions overhaul.

During that same period, sales per departing passenger in Indianapolis barely moved—from $11 to $11.20.

Airports have a vested interest in how their vendors perform because restaurants and retailers might have to pay higher rents when they sell more.

Indianapolis uses a "minimum annual guarantee" lease system. Concessionaires pay either a minimum monthly amount or 15 percent of gross monthly sales, whichever is higher.

"We desperately want the [the concessionaire] to be successful," Shaw said.

But boosting the number of local vendors could hurt the effort to generate more revenue from leases. In 2016, local vendors had sales per square foot of $619, about a third less than their non-local competitors.

That matters.

The airport's 2017 budget includes total revenue of $7.9 million from food, beverage, news, gift and specialty tenants. That accounts for 4.1 percent of the airport's total operating revenue of $191.5 million.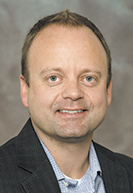 Andreasen
The two largest sources of revenue for the airport are airline fees and rentals and parking, which each account for about a quarter of revenue.

Goals for change

Today, about 44 percent of concession square footage is in Civic Plaza or another pre-security area. The remaining 56 percent is in either Concourse A or Concourse B, post-security areas accessible only to ticketed passengers.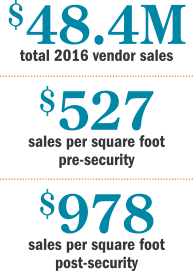 But the latter might not be enough space, Shaw said, since passengers typically want to get through security before they think about shopping or eating.

"We are over-concessioned in pre-security," he said.

In addition to shifting more concessions—especially local vendors—to post-security areas and adding fast-casual eateries, the airport also wants more recognized retailers that sell items like makeup, sunglasses and recreational outdoor apparel.

Some of the local brands currently represented at the airport say they hope to land new leases when theirs end next year. Forty of the airport's 55 concessions contracts are set to expire by the end of 2018.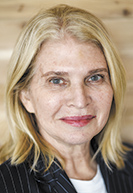 Hoover
"We are very interested in pursuing an additional contract with the airport," said Cafe Patachou owner Martha Hoover.

Hoover does not own or operate the airport's Patachou location—she has licensed the Patachou name to HMS Host, a national third-party concessions operator that operates the Patachou and several other local and national restaurants at the airport.

But Hoover does make money from her arrangement with HMS, and she said the airport location is beneficial because it acts as a "billboard" of sorts. Cafe Patachou is in Civic Plaza, a space through which outgoing passengers must walk on their way to security screening.

Hoover said some customers who first encountered Patachou at the airport now seek out the restaurant at its other Indianapolis locations.

"We have a real following from customers who take the Boston flight," she said.

Lafayette-based Copper Moon Coffee also plans to reapply when its lease runs out next year. The retailer has locations in both the A and B concourses. Those locations are owned and operated by CC Holdings Inc., an Indianapolis-based operator that runs several other concessions at the airport, as well as several other Copper Moon locations in Indianapolis and elsewhere.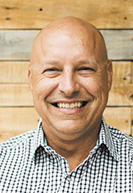 Gutwein
"Those [airport] locations have done really well for us," said Copper Moon CEO Brad Gutwein. He said he hopes to continue in both concourses—and add a third spot pre-security as well.

Being at the airport is good for brand recognition, Gutwein said. He's had customers identify Copper Moon because of its airport location, and some have even asked him about opening franchised sites.

"It has certainly created a lot of interest," he said.

Up in the air

It's too early to tell which vendors will want to come back, what newcomers will enter the fray, and who will be selected for new leases.

Shaw said everyone whose lease expires next year will have to go through the public solicitation process, and all applicants will be evaluated against the same criteria.

"There's a lot of brands that will want to stay," he said. "But ultimately that's the beauty of the solicitation process."•