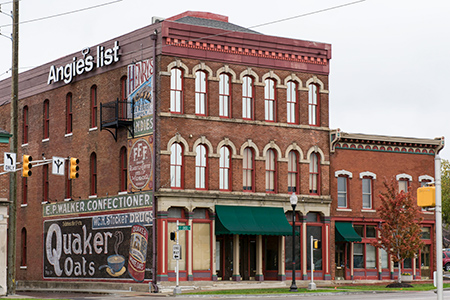 A co-founder and former CEO of Angie's List Inc. is attempting to buy the company's campus east of downtown and has assembled an investment group that includes some local heavy hitters.
ANGI Homeservices Inc. in early October listed for sale the entire 17.5-acre site that has helped anchor and revitalize the Holy Cross neighborhood and adjacent areas on the near-east side of Indianapolis.
The local office of Chicago-based real estate firm JLL listed the property and accepted offers until last Friday. Listing agent Matt Waggoner told IBJ he would decline to comment on who submitted bids or how many were received until JLL had a chance to review the offers.
IBJ has learned the property received a bid from at least one group, led by former Angie's List CEO Bill Oesterle. His team includes John Chuang, an early investor in the company, as well as Peter Coolidge, a founder of Angie's List.
Also involved are Mickey Maurer, a co-owner of IBJ Corp. and a former Angie's List director; Nathan Feltman, an IBJ Corp. co-owner and former secretary of commerce and CEO of the Indiana Economic Development Corp.; and John Thompson, chairman and CEO of Thompson Distribution Co.
Colorado-based ANGI, which debuted as a public company Oct. 2 in a merger of Angie's List and rival HomeAdvisor, plans to sell the property for the best offer. The campus, headquartered at 1030 E. Washington St., is made up of 41 parcels with 25 buildings, 1,000 parking spaces and 190,000 square feet of office space.
Oesterle declined to reveal how much his group bid for the property. But if successful, the investors would redevelop the buildings into a mix of residential, retail and office space to build on the area's momentum.
"It would be great to get some real retail along Washington Street," he said. "It's great creative space for entrepreneurial companies and not-for-profits. There's a little bit for everybody."
A spokeswoman for HomeAdvisor declined to comment on the bid process.
Oesterle stepped down as CEO of Angie's List in July 2015. He co-founded the company with Angie Hicks in 1995 and led it through an initial public offering in 2011.
In 2000, Angie's List began renting the east-side buildings and lots. In November 2012, while adding 500 employees to the roughly 1,000 it already had, Angie's List decided to purchase those parcels—about 40—for $6.25 million.
Since the merger between Angie's List and HomeAdvisor was announced in May, officials charged with leading the new company have expressed interest in cutting costs and simplifying operations. And it just doesn't need that much space. Angie's List has downsized from about 2,200 employees in mid-2014 to about 1,000 today.
Angie's List and HomeAdvisor are separate brands under ANGI Homeservices. Both entities plan to maintain separate operations in Indianapolis—at least for now. HomeAdvisor's local operations are based downtown at 1 Virginia Ave.
The east-side campus touts a diner, fitness center and state-of-the-art conference center.
"We have tremendous faith in the progress of the east side," Oesterle said. "It was a little forgotten-about when we got there, and now it's not so forgotten-about."
Indiana Landmarks has written a letter supporting the group's bid, Oesterle said.
Please enable JavaScript to view this content.