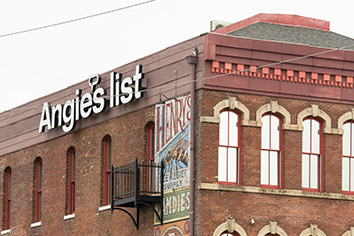 ANGI Homeservices Inc. has listed for sale the entire Angie's List corporate campus, a 17.5-acre property that helped revitalize a section of Indianapolis just east of downtown—but one that ANGI wants nothing to do with.
Colorado-based ANGI—which debuted as a public company Oct. 2 after Angie's List Inc. merged with HomeAdvisor—announced Monday that it is selling the property for the best offer. The campus, headquartered at 1030 E. Washington St., is made up of 41 parcels with 25 buildings, 1,000 parking spaces and 190,000 square feet of office space.
The local office of Chicago-based JLL is the listing real estate brokerage.
It remains to be seen how much interest it will attract, whether one buyer will want it all, and whether the next owner (or owners) plans to be an occupant or an investor.
Abbe Hohmann, president of Indianapolis-based Site Strategies Advisory LLC, said the campus might see some interest—but it could be tough to get one buyer. Hohmann was involved in Indianapolis Public Schools' $1.65 million sale of the former Ford plant on East Washington Street to TWG Development Inc. The Ford plant is across the street from Angie's campus on a 3.6-acre lot.
"We had five bidders, so there are people looking at that East Washington Street corridor," Hohmann said. "But I think the challenge will be having one group want to buy all of that."
JLL listing agent Matt Waggoner said ANGI will accept offers until Nov. 3 and hopes to finalize a buyer or buyers by the middle of next year, when it will move affected employees to new space. He said ANGI's preference is to sell the property to one buyer, but is not ruling out offloading it in pieces.
"One of the huge benefits of this campus … is that it's one of the biggest developable parcels in proximity to downtown," Waggoner said. "It's got a lot of parking, it's got a lot of good infrastructure and buildings, so it creates a lot of flexibility for future buyers."
There aren't many potential occupants known to be looking for 190,000 square feet of space. One could be Infosys Ltd., which plans to hire 2,000 Hoosiers by 2021. In August it signed a lease for 35,000 square feet of space at the OneAmerica Tower, but it is likely to need more space as it adds employees. Infosys didn't immediately respond to a request for comment on the property.
Angie's List started renting east-side buildings and lots in 2000 and grew its footprint over time. In November 2012, while in the midst of adding 500 employees to the roughly 1,000 it already had, it decided to purchase those parcels—about 40—for $6.25 million.
The seller was Henry Amalgamated, a property company in which former Angie's List CEO Bill Oesterle was a 70 percent owner.
ANGI's decision is hardly a surprise. Since the merger was announced in May, officials charged with leading the new company expressed interest in cutting costs and simplifying operations. And it just doesn't need that much space. Angie's List downsized from about 2,200 employees in mid-2014 to about 1,000 today..
Angie's List and HomeAdvisor are separate brands under ANGI. Both entities plan to maintain separate operations in Indianapolis—at least for now. ANGI CEO Chris Terrill told IBJ last week that his vision is for the two brands to occupy the same office space, but that may come down the road.
Waggoner said Angie's List has been renovating buildings for about 10 years. The campus touts a diner, a fitness center and a new state-of-the-art conference center. 
"It's got a mix of buildings from different eras," Waggoner said, "but a lot of them have just a tremendous amount of historic character."
Please enable JavaScript to view this content.