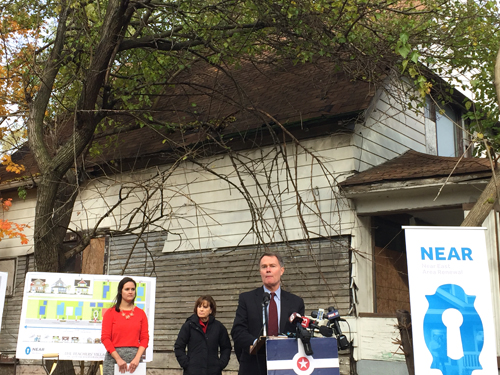 Rural Street in the St. Clair Place neighborhood on Indianapolis' near-east side is littered with vacant lots and abandoned homes.
But a nearly $3.2 million investment to build affordable housing and rehab existing homes for teachers aims to change that.
City and neighborhood leaders unveiled the effort, called Teachers' Village, on Tuesday morning. Standing on a vacant lot where one of the 21 homes is slated to be built, Mayor Joe Hogsett hailed the two-block Teachers Village area along Rural as an "incredible opportunity" for the city.
"This Teachers' Village does more than improve this neighborhood," Hogsett said. "It brings us one step closer to a better tomorrow."
The investment comes from two sources. Through federal Community Development Block Grant funds, the city is contributing $561,000 to acquire property and abandoned homes on Rural Street and to provide funding to community development group Near East Area Renewal to build or rehab seven houses.
The Indianapolis Neighborhood Housing Partnership, through new markets tax credits, is kicking in $2.6 million to purchase property and homes and to help NEAR build or rehab 14 houses.
NEAR already has helped rehab or build 100 homes in St. Clair Place and views Teachers' Village as an extension of the neighborhood's revitalization.
Founded in 2003, NEAR partners with organizations to spur revitalization in 20 east-side neighborhoods. St. Clair Place, with a 40 percent residential vacancy rate a decade ago, was identified in 2007 by the Great Indy Neighborhoods initiative as an area most in need.
"You want people to put down roots in these neighborhoods and we want teachers in this neighborhood," said John Franklin Hay, NEAR's executive director. "They make great civic and community leaders."
Teachers with an income at or less than 120 percent of the area median income are eligible to buy the homes. The current median household income for Indianapolis is $54,322, according to the U.S. Census Bureau.
The 21 three-bedroom homes comprising Teachers' Village will start at $130,000 and can be purchased by teachers at below their market values—made possible by the subsidies involved.
Buyers of homes built with the help of federal subsidies such as the CDBG funds and new markets tax credits must live in them for at least five years, to prevent them from flipping the houses at a higher price.
The first 14 in Teachers' Village should be completed by May and the remaining seven next fall, Hay said. They'll be built on a two-block stretch of Rural, from St. Clair to 10th streets.
"We intend to transform this street, with the help of teachers," Hay said.
The homes will be targeted toward young teachers with less than three years on the job at Indianapolis Public Schools and mayor-sponsored chartered schools.
Teachers Village stems from Hogsett's campaign promise to tackle abandoned housing in inner-city neighborhoods and is part of the city's efforts to recruit and retain high-quality teachers. The city said it loses nearly 400 teachers annually from IPS alone.
Please enable JavaScript to view this content.