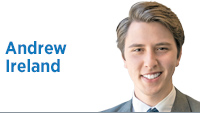 Inundated with class and work, I tried my best this month to unplug from an increasingly mind-numbing news cycle. Like death and taxes—despite my most valiant efforts—this, too, appears almost inescapable.

There were flashy pop-ups on my laptop, annoying push notifications on my phone, endless email alerts, technicolor admonitions in every bar, and stacks on stacks of gray newsprint along my morning route.

Perhaps the most damning line, among that sea of information, was a November piece titled "Republicans go for 'layup' on tax reform." An otherwise dull rehash on the House's Tax Cuts & Jobs bill, the piece's headline perfectly captures the political Zeitgeist.

As Republicans christen the first anniversary of their Washington takeover, the sobering reality is, very little has been accomplished since. Instead, congressional leadership has played a self-defeating game of consensus-seeking, searching for easy victories.

Make no mistake, people are celebrating the new Washington order. The market is up, economic growth is strong, and confidence is high heading into the holiday season. Some meaningful victories have been made, too: namely, the confirmation of conservative Supreme Court Justice Neil Gorsuch.

Yet, the policies and ideas that energized the forgotten man and woman last fall—the coalition many Republicans owe their paychecks to—seems to have again fallen by the wayside. In truth, Congress has done little to enact President Trump's America First agenda.

Obamacare is the law of the land, the southern border is not secure, and tax reform is shaping up to be a half-effort. When taking inventory, plenty of work remains.

Congress' gross ineffectiveness has not gone unnoticed. Recent polling shows Democrats up double digits on a generic ballot, putting Republicans' sizable majorities at risk. No doubt, this spike has little to do with a muscular opposition as Democrats continue their messy soul-searching process.

With 2018 looking rocky, however, Republicans must be bold.

President Reagan famously stated, "Our people look for a cause to believe in ... a banner of no pale pastels, but bold colors which make it unmistakably clear where we stand on all of the issues."

Republicans' greatest issue is not one of ideology, so much as it is one of guts and vision. We cannot let fear guide an agenda and stymie meaningful action. Half measures and delayed implementations might make for easier waters to navigate in Congress, but they do little to energize the party's base. Instead, they breed distrust and lead voters to question their support at a time it is desperately needed.

President Trump, for his part, continues to embody this resolute vision. Calls to drain the swamp and put America First make up a common-sense, populist doctrine that goes much deeper than traditional party lines.

The White House has recorded a series of political and cultural victories this year, relying on executive oversight and the bully pulpit. From the NFL to DACA, the president has been in the spotlight, making moves in accordance with his promises. But a president's pen and phone are not enough.

Without bold leadership in the House and Senate, the America First vision will never come to fruition. If Republicans want to save their seats, congressional leaders cannot cater to the compromise caucus.

Hoosiers and Americans in general went to the polls last November demanding change in Washington. If Congress cannot paint in bold colors and honor their promises, for better or worse, they will likely be what is changed in 2018.•

__________

Ireland is a Robel Scholar at Indiana University's Michael S. Maurer School of Law and a digital media consultant. Send comments on this column to ibjedit@ibj.com.