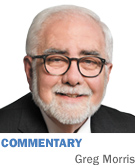 If you're reading this in the newspaper, rather than online, chances are good you're a few days behind your normal IBJ reading schedule. That's because the U.S. Postal Service was closed on Saturday, Nov. 11, in observance of Veterans Day. And about half of our print subscribers get the paper delivered to their home on Saturday.

While I prefer a more timely delivery of the paper, I can't think of a more noble cause for the delay. I hope we all paused from our busy lives on Nov. 11 to honor all who have served our country in the military.

At press time, the highlight of Veterans Day in our nation's capital was to be the annual Arlington National Cemetery Veterans Day ceremony, led by Indiana's own, Vice President Mike Pence. Here, the Veterans Day service was scheduled at the Indiana War Memorial. It was to include special guest speakers, a wreath laying, a flyover by the Indiana National Guard, the tolling of the U.S.S. Indianapolis bell in remembrance of all our nation's wars, and "Taps" performed by the Indiana National Guard.

The annual Veterans Day parade downtown was to include more than 80 units. These local events were organized by the Veterans Day Council of Indianapolis, a volunteer-staffed not-for-profit whose primary purpose is to bring about a constructive relationship between the community and veterans of our Armed Forces.

For 98 years, Americans have honored on Nov. 11 those who served our country in uniform. And in this 99th year, the U.S. Department of Veterans Affairs broadened that tradition to include both veterans and military families for the entire month of November. So, if you missed the Nov. 11 celebrations, you still have time to pay your respects.

I trust you join me as we show our appreciation by thanking veterans for their service, supporting better veterans' health care benefits, and offering support to families left behind while their loved ones are away protecting our liberties. I stand for America, whether that's during the singing of our national anthem at a football game or proudly flying the American flag at my home, among many other ways.

Maybe you have veterans in your family, or down the street or at your workplace. According to the U.S Department of Veterans Affairs, as of fiscal year 2016, there were more than 20 million veterans in the U.S. In Indiana, more than 8.5 percent of our population—around 418,500—are veterans, and just under half of those are age 65 and over.

These brave men and women deserve our respect, our gratitude and support. Some could use a helping hand now. They've been there for us, defending our rights and freedoms. We need to be there for them in their time of need. More than 85,000 Indiana veterans receive disability compensation, and too many live below the poverty line. The state has many services available through the Indiana Department of Veterans Affairs, led by Director James M. Brown. Find out more at www.in.gov/dva.

While resources are available to Hoosier veterans, current government funding isn't nearly enough. Consistently, Indiana has ranked among the worst states in the country for funding its veterans. I've discussed this topic on a few occasions with veterans' advocate and Carmel resident retired Army Brig. Gen. James Bauerle. He's passionate about this issue and has lobbied legislators at the Statehouse to increase funding. Bauerle has a lot of clout in my book after having served in Vietnam, Kuwait and in Iraq in Desert Storm. He's commanded troops in combat and has seen death up close and personal. When he says we need to do a lot more as a state, I believe him.

What else can we do to support veterans? We can reach out directly to our veteran family members, friends and associates. As business owners and managers, we can make more of an effort to hire veterans for our open job positions. We can also support the many not-for-profits that help veterans. But be sure to do your homework and research the organization before supporting it.

In closing, I offer my sincere thanks and gratitude to all service members, past and present, whose efforts and sacrifices afford me and my family the opportunity to sleep under the blanket of freedom that we enjoy. I honor all who have served.•

__________

Morris is publisher of IBJ. His column appears every other week. To comment on this column, send email to gmorris@ibj.com.