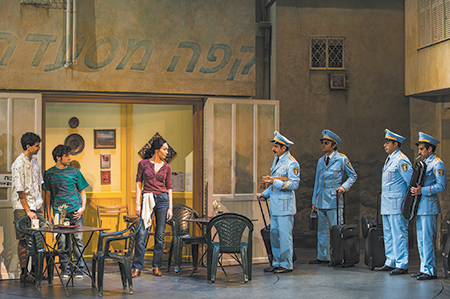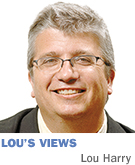 Recent trips to New York City yielded a wide range of what Broadway has to offer. Here are six you'll find on the marquees of the Great White Way. For thoughts on the still-running "Anastasia," click here. And there's this little show called "Hamilton" that I wrote about here. 
'The Band's Visit'
Make note of this very special newcomer, an elegant, deeply felt, elusive and—in its own way—breathtaking story. It insists in its opening that this tale of a group of Egyptian musicians who inadvertently found themselves in a tiny Israeli town for a night "wasn't very important." But by avoiding what usually passes for big, important, theatrical moments, "The Band's Visit" finds the universal in the very specific, with Director David Cromer and a first-class design team ensuring that quiet never equals dull. Enriched with a unique musical sound—some instruments such as the oud and the darbouka might be making their Broadway debuts—it features an ensemble cast that seems to be living the material. Included is familiar face Tony Shalhoub ("Galaxy Quest" and TV's "Monk"), who gives a quietly rich performance. But this is not a star part. An incredibly generous performer, Shalhoub is part of an ensemble of equals, including expect-to-hear-more-from talents Ari'el Stachel, John Cariani and Katrina Lenk. This short trip into the human heart will be a challenging one for producers to sell and for regional theaters to eventually tackle, which is one of the reasons I hope this production has a long, strong life on Broadway. And I could have listened to the band's curtain-call mini-concert for the rest of the evening.
'Charlie and the Chocolate Factory'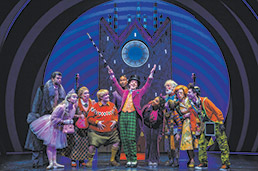 Christian Borle shines as Willy Wonka (Photo courtesy of Joan Marcus)
Some audience members go to Broadway to see things they already know. Sometimes that means a revival of a previously produced musical. Sometimes it's a stage production of a well-worn property. The latter is the case here, with this "been there/seen that" adaptation, featuring a handful of songs from the original film with added ones from Marc Shaiman and Scott Wittman. While I enjoyed Jackie Hoffman as Mike Teavee's mom (I'd enjoy Hoffman as anybody's mom) and I appreciated some of the effects, the only strong reason to recommend the show is Christian Borle, one of musical theater's most versatile talents (see the recent broadcast of "Falsettos"). As Wonka, he not only delivers the absurd, borderline-cruel punchlines, but also gets laughs from the anticipation of the lines. His work is more of a wonder than anything else in the factory of this factory-built show.
'Come From Away'
With some of the same elements as "The Band's Visit" (an unplanned stay, brief encounters with accommodating locals), "Come From Away" is a feel-good show about 9/11. Well, actually 9/12 and the days that followed, as the passengers on diverted planes found themselves dependent on the kindness of strangers in Gander, Newfoundland. Unlike "The Band's Visit," which begins with a song-less scene, "Come From Away" starts stomping right away with "Welcome to the Rock" and barely stops moving throughout. It often works—particularly in a rousing drinking/bonding number—and it's great to see such a variety of shapes and ages on stage in a musical. While "Come from Away" has plenty of hokiness and often states (and overstates) the obvious, it's a sincere effort to celebrate the positives we can pull from the horror that happened just a few miles away from this theater.
'The Play That Goes Wrong'
The original production of the backstage—and onstage—disaster comedy "Noises Off" was one of the funniest things I've ever seen. I was aching by the time each of its acts ended. The British import "The Play That Goes Wrong," now the longest-running non-musical on Broadway, is basically "Noises Off" without the plot. And while it didn't have me doubled over, I did plenty of giggling. The plot goes no deeper than the title. You're in the theater, a play is being staged by an earnest-but-amateur company, and just about everything that can conceivably screw up screws up. It's a schadenfreude fiesta celebrating "the show must go on" thinking in its extreme. But while I'm all for a loose floorboard hitting its hapless mark, I wish the creative team had found ways to reduce or eliminate the inorganic jokes—the ones that don't arise naturally out of the characters and situations. Even the farciest farce should be anchored to something.
"Miss Saigon"
Like most narratives of the post-Vietnam West, "Miss Saigon" deals primarily with American guilt—the retroactive angst about the war we couldn't win. But as much as it plays into that story, "Miss Saigon" also celebrates the "American Dream" as the only escape for the Vietnamese, using that dream to justify its heroine's final act as heroic.
When "Miss Saigon" originally opened on Broadway in 1991, the big controversy was whether Jonathan Pryce, a white actor, should be playing an Asian man. Cries of "yellowface" brought attention to the lack of opportunities for Asian-American actors—a problem that continues today. The revival dodges that issue with more sensitive casting and script changes aimed at greater cultural authenticity. But it's still just as tough to get past the sense that "Miss Saigon" is a have-it-both-ways musical. It wallows in bumping and grinding in the lengthy opening brothel sequence and then tells us how horrible that life is. The score, by the "Les Miserables" team of Boublil and Schonberg abetted by lyricist Richard Maltby Jr., paints its Vietnamese characters as either victims or manipulators, provoking pity for "those" people rather than an appreciation for its characters "as" people.
"A Bronx Tale"
"A Bronx Tale" doesn't have fresh ideas, inventive staging, impressive choreography or a particularly accomplished score. But filtered through a big, eager-to-please heart, its hodgepodge of elements somehow manages to keep it engaging enough, tapped into the regular-Joe audience that helped make "Jersey Boys" such a huge hit. Adapted by Chazz Palminteri from his one-man play (which later became a film), "A Bronx Tale" concerns a kid who witnesses a shooting from his stoop and soon falls under the wing of the local goodfella shooter (Nick Cordero), leading to conflict with his father (Richard H. Blake) over the soul of the lad. Here's hoping the kid (Will Coombs), who is spot on, doesn't age out of this just-good-enough show too quickly.•
__________
This column appears weekly. Send information on upcoming arts and entertainment events to lharry@ibj.com.
Please enable JavaScript to view this content.