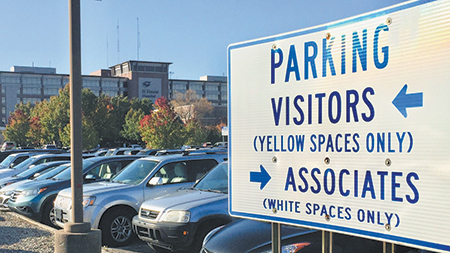 The parking lots and garages around St. Vincent Hospital's West 86th Street campus stretch for acres, with thousands of spaces available for patients, families and other visitors. But apparently some employees are parking too close to the buildings, taking up choice spaces.
In response, the hospital is about to roll out a parking-enforcement program, using license-plate-recognition software, to make sure employees stay in their designated areas.
The hospital has entered a partnership with NuPark Inc., a parking-technology company based in Lubbock, Texas, to help it enforce employee-parking regulations.
According to interviews with NuPark officials, along with a NuPark press release, St. Vincent has purchased two high-tech cameras, worth up to $50,000, to be mounted on an enforcement vehicle that will travel up and down rows, monitoring every parking space eight to 10 times a day.
The cameras will shoot a beam of light at each car's license plate, and read an image from the reflective material on the plates. Software will help match the plates against a database of employee license plates.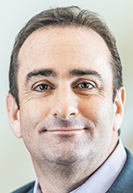 Schleyer
"What we're doing there is, we're ensuring that the employees … are not parking in the customer spots," said Mark Schleyer, NuPark's eastern regional sales director, who is handling the St. Vincent account. "The net effect is that it's opening up spaces for the customers so they don't have to walk so far."
The parking problem at St. Vincent had apparently gotten so bad it was "negatively affecting their patient satisfaction scores," according to a NuPark press release. The release also quoted Beth Melchi, executive director of operations at St. Vincent: "The comfort in finding a parking space quickly is important to our patients and visitors, and we are excited to integrate emerging technology into our parking operation."
Hospital spokeswoman Tangela Floyd declined to comment, saying in an email to IBJ that "the project has not been totally rolled at this time."
The hospital's parking operator, Indianapolis-based Denison Parking Inc., also declined to comment.
St. Vincent is one of the largest hospitals in Indiana, with 788 staffed beds. Last year, it had 32,139 patient discharges and $3.4 billion in patient revenue, according to the American Hospital Directory, which collects information for the Centers for Medicare and Medicare Services.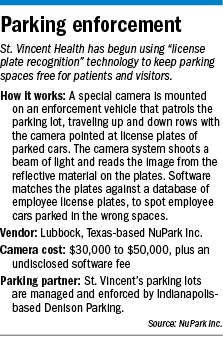 IBJ visited the massive hospital campus twice in recent days, spending nearly an hour each time in the lots, observing the activity. Both times, plenty of spaces seemed available within a short walk to the doors of nearly every side of the hospital and nearby medical office buildings.
It was clear that employees are expected to park far from the hospital building, to leave room for visitors.
"Associates (White Spaces Only)" was on several signs, with arrows pointing to parts of the lot farthest from the hospital. Several St. Vincent employees, wearing blue scrubs, declined to talk to a reporter as they walked across the parking lot.
Some experts say hospitals are beginning to follow shopping malls, colleges and other institutions in using such technology to enforce employee parking restrictions.
"It's just human nature to want to park as close as possible, but that's not good for hospital patients, who are often under a lot of stress," said Gary Means, executive director of the Parking Authority of Lexington, Kentucky, and a board member of the International Parking Institute, based in Alexandria, Virginia.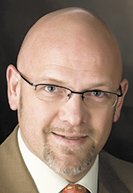 Means
NuPark, founded about five years ago, has customers that range in size from small housing complexes to malls and major universities, Schleyer said. It uses technology it licensed from Texas Tech University, which developed the proprietary system about eight years ago.
License-plate recognition technology is growing in popularity around the country. About 75 percent of all U.S. license plates are tagged and tracked by more than 2,000 car-mounted cameras, which circle city streets daily, taking photos of plates parked in streets and driveways, according to Insurance Business magazine.
All that data allows insurers to combat fraud "and keep an eye on their premiums," the magazine said in its June issue. About 200 insurance carriers pay to access that tracking data to counter fraud claims.
California-based Vigilant Solutions takes photos of cars and trucks with a vast network of cameras. The company has taken roughly 2.2 billion license-plate photos to date. Each month, it captures and permanently stores about 80 million additional geotagged images, according to a 2016 story in The Atlantic magazine.
But some city police departments are running into resistance as they try to adopt the hardware. In May, officials in Grand Rapids, Michigan, discussed whether to buy scanners to enforce parking in the city, to help determine if cars parked on the street and in city lots had valid permits.
The American Civil Liberties Union objected, saying the plan reduces "personal privacy rights and empowers the surveillance society." But the council voted to open bidding, anyway, saying the police and traffic enforcers would not share information with other departments or outsiders, and all data would be deleted after 24 hours, unless a parking citation was issued.•
Please enable JavaScript to view this content.