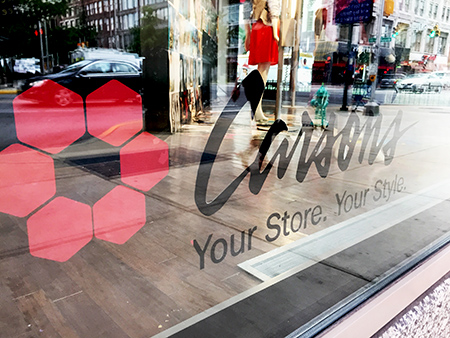 Bon-Ton Stores Inc., the struggling parent of retailer Carson's, disclosed Thursday that it plans to close at least 40 stores in 2018.
Bon-Ton, which operates 260 department stores under several names across 24 states, has just one store in Indianapolis (Carson's), but that store is the only anchor in Circle Centre mall. It also has a Carson's store in Mounds Mall in Anderson.
CEO Bill Tracy, the former chief operating officer who took over the top spot at Bon-Ton in August, said in a conference call with analysts Thursday that the company was still determining which stores it would close.
He said most of the closures are likely to be smaller leased stores with a negative cash flow.
The downtown Indianapolis store would not fit under the "smaller" category. The three-story store occupies 145,000 square feet, or about one-fifth, of the 800,000-square-foot mall.
The city of Indianapolis this year extended its Circle Centre lease with the retailer for five years, an agreement expected to keep Carson's in the mall until at least January 2023. Because of its importance to the shopping center, the retailer received healthy rent reductions.  
Retail experts have been warning that the Bon-Ton's future is in question. The company's third-quarter results, announced Thursday, did little to change those thoughts.
The retailer lost $44.9 million, or $2.19 per share, in the quarter, compared with a loss of $31.6 million, or $1.58 per share, in the same quarter of 2016.
Sales in the period decreased 7.6 percent, to $545.3 million, and same-store sales decreased 6.6 percent. Bon-Ton hasn't turned a profit since 2010.
Tracy said urgent measures were necessary.
"Over the past three months, I've taken a fresh and comprehensive look at our business, particularly given the continued headwinds and a challenging retail environment," he said in the conference call. "While our third quarter results fell short of our expectations, I want to assure you that we're approaching the challenges to the business with sense of urgency and decisiveness. As such, we're taking more aggressive steps to drive improved performance as well as strengthen our financial position."
Bon-Ton shares closed at 46 cents each Thursday, down a dollar since the beginning of the year.
In addition to Carson's, Bon-Ton operates department stores under the brand names Boston Store, Younkers, Bergner's, Bon-Ton, Elder-Beerman and Herberger's.
The company has dual headquarters in Milwaukee and York, Pa.
Please enable JavaScript to view this content.