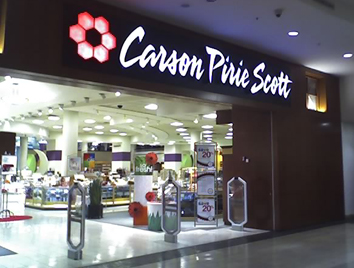 Carson's has extended its Circle Centre lease for five years—a move that eliminates a huge question mark hanging over the downtown shopping mall, IBJ has learned.
The department store's lease had been scheduled to expire next January. Carson's departure would have left Circle Centre without any anchors at a time it's already suffering from an exodus of smaller shops from interior corridors.
The city of Indianapolis in December 2014 had swayed Carson's to stay through January 2018 by negotiating a rent-reduction deal saving it $300,000 annually for three years. At the time, a city report said losing Carson's would have had a "devastating impact on the mall, surrounding properties and businesses."
City officials told IBJ on Monday that Carson's agreed to the same terms as the previous deal.
Carson's is owned by York, Pennsylvania-based Bon-Ton Stores Inc., which operates 266 stores in 26 states, including more than 50 Carson's stores in Indiana, Illinois and Michigan. Bon-Ton spokeswoman Christine Hojnacki and Les Morris, a spokesman for the partnership of 20 local companies that owns the mall, confirmed that Bon-Ton exercised an option extending its lease for five years. The extension, which Bon-Ton committed to in September, keeps Carson's under lease through January 2023.
Circle Centre, which opened in 1995 after more than a decade of planning, is widely credited with spurring downtown's renaissance. However, its tenant mix has eroded in recent years—most notably with the exit of the other anchor, Nordstrom, in 2011.
Mall manager Simon Property Group, which owns 15 percent of Circle Centre, tried for years to find a replacement department store for Nordstrom before opting to lease about half its space to The Indianapolis Star.
The city, which owns the land on which the mall sits and the building itself, leases the property to Circle Centre Development Co., a partnership of Simon and 19 other local companies that provided $75 million toward the mall's $320 million cost.
When city officials negotiated its rent-reduction deal with Carson's two years ago, they wrote in a report that keeping Carson's "is of heightened importance because [Simon] has been unable to find another tenant that is willing (without tens of millions of dollars in cash incentives) to operate a department store in the mall."
Adam Thies, then the director of the Department of Metropolitan Development, said at the time: "Carson's had the right to leave when Nordstrom left, but they didn't. At the end of the day, if the mall begins to decline, we're in big trouble."
While the lease extension helps secure the future of the 752,000-square-foot mall, it still faces significant challenges, including widespread closings of small shops. Closings this month included Talbots and The Limited, which shuttered all its stores nationwide. Other Circle Centre defections the last two years include Gap, Gap Kids, Johnston & Murphy, Wet Seal and Delia's. 
The mall, now 21 years old, also is overdue for renovations. IBJ reported in September 2015 that Simon was proposing $20 million in upgrades, but the bulk of that work has not begun.
The mall's ownership group is led by Eli Lilly and Co., its largest investor. Asked in November to explain the holdup with renovations, Lilly Assistant Treasurer Susan Ridlen said in an email: "As you can appreciate, there have been many moving pieces in retail and commercial real estate in the recent 18 months that need to be clarified."
She added: "The renovation project under consideration is likely to be a very material investment. Real estate renovations require not only various levels of planning and then detailed architectural and engineering work, but numerous discussions and adjustments from the various stakeholders."
She said she was excited by progress the mall has made, including the opening of a Georgia Street entrance late last year and development of new restaurants along the mall's perimeter in space formerly occupied by Nordstrom.
Those include the restaurant and bar Yard House, which opened in 2015, as well as the Mexican eatery Nada and the games venue and bar Punch Bowl Social, both of which opened last year.
Scheduled to open this year are the cigar bar Burn By Rocky Patel and Burger Study, a new concept from St. Elmo Steak House owner Craig Huse.
Please enable JavaScript to view this content.