The parent company of Circle Centre mall's sole anchor, Carson's, is facing steep challenges, with some retail experts wondering whether it will be the next big chain to collapse.

Bon-Ton Stores Inc., which operates 261 stores in 25 states from twin headquarters in Milwaukee and York, Pennsylvania, fired its CEO in May after six consecutive years of annual losses, leaving its stock price languishing well below $1.

Circle Centre nailed down a new lease with Carson's last year, but now its future in the mall looks extremely shaky. It's the latest challenge for the downtown mall, which still has not moved forward with a $20 million renovation that manager Simon Property Group Inc. proposed nearly two years ago.

"Unfortunately, it is—I hate to say it—dead man walking," Chicago retail consultant James Dion said of Bon-Ton. "I just cannot come up with any scenario that turns them around, or even stabilizes them."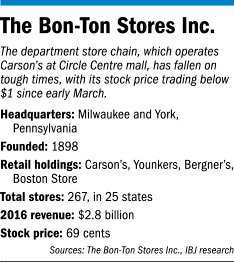 Founded in 1898, Bon-Ton, like fellow department store stalwart Sears, is struggling to compete in a changing retail environment where online shopping continues to cut into brick-and-mortar sales.

Bon-Ton lost $63.4 million in fiscal 2016, as revenue fell almost 5 percent, to $2.6 billion. Bon-Ton is off to an even worse start in its current fiscal year, losing $57.3 million in its first quarter.

Moreover, comparable-store sales, a key indicator in the retail industry, last quarter fell 8.8 percent on "difficult mall traffic trends," among other factors cited by former CEO Kathryn J. Bufano in a May conference call with investors.

"Overall, we expect the retail environment to remain challenging and are reducing our full-year comp expectation," said Bufano, who since has been replaced by Chief Operating Officer Bill Tracy.

Bon-Ton's other chains include Younkers, Bergner's and Boston Store. Bon-Ton this year has announced the closings of two Boston Store locations, in Pennsylvania and Maine, and plans to shutter up to four more stores in the Bon-Ton chain. It hasn't said where those will be.

That might not be enough, however, to save the company.

"If sales trends remain weak, there is a significant risk that Bon-Ton will go bankrupt within less than two years," wrote Motley Fool columnist Adam Levine-Weinberg. "Unless there is a clear light at the end of the tunnel by then, Bon-Ton and the six other department store brands it owns could disappear for good."

Bon-Ton spokeswoman Christine Hojnacki told IBJ she couldn't comment on the performance of the Carson's in Circle Centre but said "we have a number of strategic initiatives we're undertaking throughout the company" to improve merchandising and online sales.

Lease extension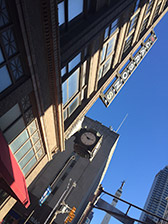 A Bon-Ton spokeswoman wouldn't comment on the performance of Carson's in Circle Centre. The local store late last year extended its lease with the mall to January 2023. (IBJ file photo)
Carson's late last year extended its Circle Centre lease five years—a move that seemed to have eliminated a huge question mark hanging over the downtown shopping destination.

The department store's lease had been scheduled to expire in January 2018. Under the new deal, Carson's agreed to the same terms of the previous agreement in 2014, when the city of Indianapolis negotiated a rent-reduction deal saving Carson's $300,000 annually for three years to keep the store from leaving.

That's a strategy Bon-Ton executives are increasingly employing, acknowledging in the conference call that the chain routinely renegotiates leases with landlords that might have no other choice but to let the space go dark.

Carson's departure would have left Circle Centre without any anchors (Nordstrom left in 2011) at a time it's already suffering from an exodus of smaller shops from interior corridors.

When city officials agreed to the rent-reduction deal three years ago, they acknowledged in a memo that finding a replacement would be unlikely.

"Retaining [Carson's] at the mall is of heightened importance because [Simon] has been unable to find another tenant that is willing (without tens of millions of dollars of cash incentives) to operate a department store in the mall," the memo said.

At least a dozen traditional retailers have left in the past few years, including Abercrombie & Fitch, The Loft, The Limited, and Gap and Gap Kids, giving way to the likes of a second GlowGolf location, eyebrow threading boutique, and a convenience store.

On a brighter note, H&M reopened in May, expanding into what was The Loft. And the mall's outer perimeter continues to attract restaurants and nightspots, with Nada and Punch Bowl Social opening in 2016, and Burger Study and Burn by Rocky Patel expected to arrive this year.

The new arrivals last year helped the mall post profit of $10.7 million in 2016 on record revenue of $24.9 million—boosted by more restaurant tenants to the traditional retail mix. Occupancy for the first three levels, however, fell from 95.6 percent at the end of 2015 to 94.7 percent at the end of 2016.

Upgrades coming?

Circle Centre, now 21 years old, is overdue for renovations. IBJ reported in September 2015 that Simon was proposing $20 million in upgrades, but the bulk of the work has not begun.

The mall's ownership group is led by Eli Lilly and Co., its largest investor. Asked for an update on renovations, Lilly Assistant Treasurer Susan Ridlen, through a company spokesman, declined to respond. She instead referred IBJ to Simon.

Simon spokesman Les Morris said in an email that renovations are in the design phase but the company isn't prepared to release renderings.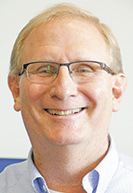 Schultz
Taylor Schaffer, spokeswoman for Mayor Joe Hogsett, said Simon has told city officials improvements will be phased in over the coming years, beginning with the interior of the building.

Last September, Simon finished the Georgia Street mall entrance to provide access from the street to the south end of the property.

The city has provided no financial assistance for the renovation project, Schaffer said, though city leaders meet regularly with Simon management to identify ways to support the mall.

The not-for-profit promotion group Downtown Indy Inc. also is under the impression that Simon is proceeding with improvements and is eagerly awaiting renderings, said Bob Schultz, its senior vice president of marketing and events.

"There's no question Circle Centre plays a critical role in the connectiveness of downtown, and the role of retail is something we take very seriously," Schultz said. "What can be done to keep it relevant, we're all in favor of."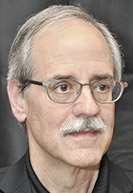 Feinberg
Meanwhile, Bon-Ton executives are focused on improving the performance of their department stores—in part by introducing new brands, including FAO Schwarz toy shops, Champion activewear, Ruff Hewn men's workwear, and Exertek girls activewear.

Bon-Ton also is trying to sell more goods through its website. Online sales now represent 10 percent of sales, and company officials are hopeful they can grow that to 20 percent.

But Bon-Ton's problems run deeper than competition from online retailers, said Richard Feinberg, a professor of consumer science and retailing at Purdue University.

Bad store locations—Circle Centre is not among them—and poor merchandising decisions have contributed, he said.

"Bon-Ton sort of lost its way a long time ago, and no one seems to have done anything to stop the bleeding," Feinberg said. "At some point, there's almost nothing you can do."•