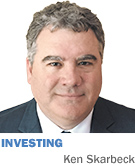 A great example of a management team that skillfully navigated the brutal economy of 2008-2009 and, over the ensuing nine years, grew a spectacular business is Elkhart's Patrick Industries.
Recall that, in 2009, Elkhart County, known as the recreational-vehicle capital of the world, had an unemployment rate of 19 percent. Congress' Recovery Act sent $169 million in stimulus funding to Elkhart, and the economy began its slow but extended recovery. From the depths of the crisis, Patrick Industries has grown into a highly profitable enterprise.
During the calm before the storm, in 2007, Patrick had doubled in size with a couple of acquisitions but had also nearly tripled its debt load to $125 million. In the fall of 2007, Patrick's shares spiked to $11 in tandem with the overall stock market. Then, as the subprime loan market began to fracture, the bottom fell out. RV and manufactured housing shipments plummeted 50 percent. Patrick's shares crashed to 17 cents in March 2009 (even though book value per share was $7.20.) Incredibly, Patrick Industries, which was valued by investors at $66 million in July 2007, was 18 months later selling for $1.5 million. Investors essentially believed Patrick was going out of business.
Enter Todd Cleveland, who was named Patrick's CEO in February 2009 at the age of 41. Cleveland came to Patrick in 2007 with the $78 million acquisition of Adorn Holdings, a manufacturer of interior components for the RV and manufactured-housing industries.
During 2008-2009, Patrick paid down more than $60 million in debt with proceeds from a stock-rights offering, the sale of an idle building, and operating cash flow.
Then, over the next eight years, Cleveland and his management team made 33 acquisitions totaling $450 million, many of them businesses in the Elkhart area. From 2009-2012, the purchases were small, averaging $2.5 million, for 13 businesses. In 2013-2014, another nine acquisitions averaged $10 million per business. Thirteen acquisitions were made in 2015-2016 at an average price of $27 million. And this year, Patrick bought LPE for $73 million to substantially increase its marine-products platform.
Debt was used proficiently in these acquisitions in tandem with Patrick's increasing cash flow. Also, from 2013-2015, the company repurchased 1.8 million of its shares at an average price of $25. Since the credit crisis, Cleveland and his management team have practiced skillful capital allocation, combined with a remarkable turnaround in their industry. Today, the Elkhart economy is booming.
Even more, it's not like Patrick's management has looted shareholders with an outrageous compensation scheme. In his best year, Cleveland's salary and stock awards totaled $4 million. On average, his compensation over the nine years averaged about $2 million, while under this management team shareholders have achieved blockbuster results. It's insane to calculate the return on Patrick's share price of, say, 35 cents when Cleveland took over. But along the timeline of this management's success, investors have had plenty of opportunities to climb aboard and participate in the growth of Patrick Industries. Today, the stock is hitting all-time highs at $93 per share and sports a market value of $1.6 billion. That's a long way even from Patrick's pre-crisis valuation of $66 million.
Congratulations are due for the well-earned success at Patrick Industries.•
__________
Skarbeck is managing partner of Indianapolis-based Aldebaran Capital LLC, a money-management firm. Views expressed are his own. He can be reached at 317-818-7827 or ken@aldebarancapital.com.
Please enable JavaScript to view this content.