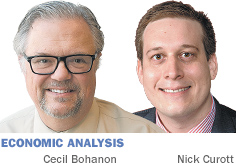 A nuclear weapon pointed at Pyongyang presumably protects all Americans from North Korea. This is true if you live in California, Nevada or Indiana. And it is true whether you made any financial contribution to the provision of the nuke. If we left the finance of national defense to voluntary contribution, say tip jars at checkout lines at stores, we suspect the defense budget would be woefully inadequate. Our forebears wisely chose to establish a national government empowered to collect tax revenue to provide national defense. Economists call goods like national defense "public goods," and one might conclude that all public goods must be provided by the government.
Yet the holiday season offers ample examples where this narrative does not hold. Here is one: the iconic Macy's Thanksgiving Day Parade. It is estimated that millions of people see it live in New York. The parade is also broadcast live to 50 million viewers worldwide. It receives no tax support, nor is any viewer directly charged. The parade is financed by Macy's, which declares it "its annual gift to the nation."
Well and good, but we suspect other motives are at play. Attracting a large audience and delighting them with spectacle and performance is fertile ground for that most capitalist of endeavors: advertising. Not just for Macy's but for all those other floats, from Pokemon to the Pillsbury Doughboy to Colonel Sanders.
Online sources suggest Macy's gets some help with the expense. It costs Macy's $30,000 to $100,000 to make a new float, but the company charges $190,000 for a new float and $65,000 to touch up an old one. Additionally, lots of folks volunteer for the parade, from Macy's employees to high school bands from across the nation that vie for national TV exposure. So the profit motive, coupled with human vanity and seasoned with more than 90 years of experience, seems adequate to overcome a public-good problem in this case.
Of course, some see commercially provided public spectacles as, well, a bit tawdry. It's all about getting us to buy goods, not affirming high ideals. Fair enough, but think of the problems with government-run public spectacles. North Korea has lots of them: military parades galore and a huge "mass games" performance where some 30,000 schoolchildren become postcards for the regime. We can be sure everything is choreographed to reinforce the wisdom and divinity of the "Supreme Leader." So, no thanks: We'll take our chances of being culturally corrupted by Teenage Mutant Ninja Turtles.•
__________
Bohanon and Curott are professors of economics at Ball State University. Send comments to ibjedit@ibj.com.
Please enable JavaScript to view this content.