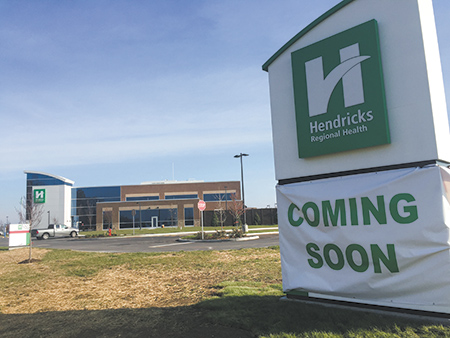 Out front, a breeze rippled through the "Coming Soon" cloth sign. The newly painted stripes on the parking lot glistened.
Inside, inspectors tested the elevators, and a worker climbed a ladder to attach wires in the ceiling. The noise from drilling and hammering filled the hallways.
"It still has that new-building smell," said Kevin Speer, president and CEO of Hendricks Regional Health, taking in all the activity at the system's $50 million Brownsburg hospital, slated to open this month.
It's the newest hospital in Hendricks County, a culmination of more than four years of planning. But it's far from the only hospital project in Indiana's second-fastest-growing county, where residential developments and retail projects are springing up almost non-stop, pushing demand for health care.
In Avon, St. Vincent is about to open a small "neighborhood hospital"—an emergency room, pharmacy, imaging center and seven overnight beds. The system plans to open two more just like it in Brownsburg and Plainfield, along with five others outside the county. Each hospital costs about $10 million to build.
And last month, Indiana University Health announced plans to add 48 beds and another floor to a patient tower at its West Hospital in Avon, at an estimated cost of $83 million.
Add to that the dozens of clinics, urgent care centers and medical office buildings that have sprung up in the past five years, and Hendricks County just might be called ground zero in Indiana's health care boom.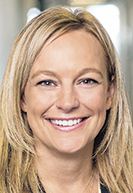 Walker
"All these hospitals are looking at a really attractive market, with a growing population and strong commercial payer base, and they're growing to try to meet those needs," said Elizabeth Walker, an Indianapolis health care consultant at Miami-based BDC Advisors.
But at the same time, the expansion is adding hospital beds into a region already saturated with unused beds, as payers demand lower-cost settings, such as urgent care centers and outpatient surgery centers, for many treatments.
And some worry that all the new construction could add to the cost of health care. In September, the Rand Corp. issued a report concluding that Indiana hospital prices were already "shockingly high"—more than three times what Medicare charges for similar procedures.
"All of us in the health care industry worry a bit about how we are already over-bedded in Indiana," Walker said. "And here you go, adding more beds to the equation, and that could potentially drive up costs."
But hospital officials say they have little choice but to expand in Hendricks County. IU Health West, with 127 beds, is nearly bursting at the seams. Last year alone, the hospital had to transfer more than 1,700 patients to other facilities because it did not have beds available for them.
Kitchell
"Demand for our services in response to this growth is high, so we need to expand to meet that demand," said Ryan Kitchell, executive vice president and chief administrative officer at Indianapolis-based IU Health.
He added: "From young families who are coming to the county for housing and excellent schools, to seniors moving to the county to be closer to their families, we are seeing growth across the communities we serve. … We want to be there for them."
Although St. Vincent had no hospitals in Hendricks County until this year, the Indianapolis-based system said it has had a presence in the county for more than 25 years with cardiologists and primary care physicians.
"Our expansion in this community is a part of our goal to improve the patient experience and to continue setting the standard of providing convenient access to high-quality, compassionate care across central Indiana," St. Vincent spokeswoman Tangela Floyd said in a written statement.
Growing, affluent
There's no denying Hendricks County is booming. According to the U.S. Census Bureau, the population swelled from 104,000 in 2000 to 161,000 in 2016, a 54 percent rise. The largest towns are Plainfield (31,000), Brownsburg (25,000), Avon (17,000) and Danville (10,000).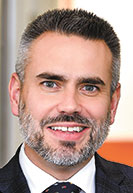 Tabor
"I don't think it's terribly surprising," Indiana Hospital Association President Brian Tabor said of the building spree. "There's just so much growth there, and so much potential for future growth."
Indeed, commercial and residential development continues at a torrid pace. In Brownsburg alone, four big projects totaling $85 million are taking shape—including office and retail space, and about 400 apartments.
Last month, Equicor Real Estate, an Indianapolis-based developer, received approval to build 165 single-family homes, 98 senior apartments and 40 assisted-living units in Avon.
And all that building doesn't appear to be slowing demand for older properties. Existing-home sales in Hendricks County rose 18.7 percent in October, compared with a year ago, the highest of any county in central Indiana, according to the MIBOR Realtor Association. The average sales price rose 8.8 percent, to $213,259.
At Hendricks Regional Health, which is owned by the county, officials realize they are in the middle of a boom area, and are reaping the rewards.
"It's a growing, affluent community," said Gary Everling, vice president and chief strategy officer. "If you're in the right place, it helps."

Affluent is not too strong a word. Median household income in Hendricks County is $67,011, nearly 50 percent higher than the statewide median. The poverty rate is just 5.5 percent, second-lowest among all counties in Indiana, after Hamilton County. And the homeownership rate is a healthy 81.5 percent.
Hendricks, the fifth-largest health system in central Indiana, is still No. 1 in its home county, with about 22 percent market share. Since it was established in 1962, Hendricks has had just one hospital, in the county seat of Danville, with 127 staffed beds.
But about four years ago, Hendricks Regional officials realized the population was shifting, with growing need for health services in Brownsburg, which had more than twice the population of Danville, a 25-minute drive away.
Speer, the CEO since 2012, said the decision to build in Brownsburg was an offensive move, not a reaction to what other health systems were doing.
"For us, it was an access issue," he said. "We need to be easy, accessible and convenient to people who want to use us."
The goal, Speer said, was for Hendricks Regional to remain an independent health system, even as some of the larger systems based in Indianapolis continued to expand in his back yard.
Unlike many independent hospital systems, which are struggling to make ends meet or selling out to larger systems, Hendricks Regional seems to have a solid footing. Its Danville hospital brought in $602 million in patient revenue last year, and after expenses, cleared $16.2 million. The system has 400 days of cash on hand, nearly double the national median of 211 days. Its strategy calls for it to erase its debt of $100 million by 2019.
With so much cash and so little debt, Hendricks Regional was able to finance its Brownsburg hospital construction with a simple bank loan—no need to go to the bond market.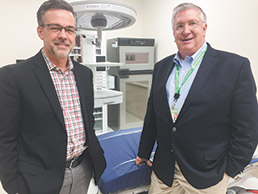 Hendricks Regional Health Vice President and Chief Strategy Officer Gary Everling, left, and President and CEO Kevin Speer will oversee Hendricks Regional Health's $50 million Brownsburg hospital. (IBJ photo/John Russell)
On-site ER alternative
The new hospital is minutes from the center of Brownsburg, on Ronald Reagan Parkway just south of Interstate 74.
The two-story, 100,000-square foot building offers an unusual combination of emergency care and immediate care, side by side. Patients who enter through the main lobby will get a quick assessment, then a staff member will recommend either the ER, to the left, or the lower-cost immediate-care center.
The move is meant to decrease the number of patients who unnecessarily use ERs for sore throats, twisted ankles and rashes.
"ER is the single most costly access to delivery, and if we can solve a problem in urgent care, versus the ER, we'd rather send you a bill for $100 than one for $5,000," Speer said.
The hospital also includes women's health services, sports and rehab medicine, a retail pharmacy, imaging and lab services. It will have a staff of about 130.
On the second floor, the hospital has a small corridor of six inpatient beds, but enough room to build 14 more, if needed.
And if that happens, Speer said, he's only too happy to put up with more drilling, hammering and sawing.
"We want to stay in business for a long time," he said, "and we want to do what it takes to have patients coming back to us."•
Please enable JavaScript to view this content.