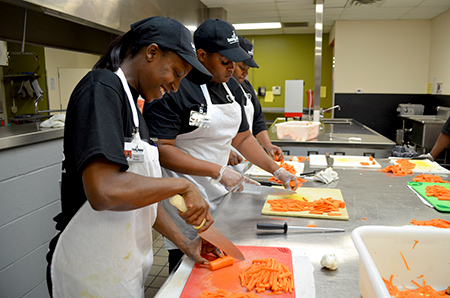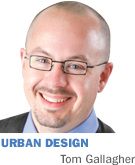 No matter how you observe the holidays, food is likely at the center of the celebration. Perhaps not nearly as obvious is how essential food has become to the form and function of cities. Once the domain of department stores, the sidewalks of downtowns and other pedestrian-friendly neighborhoods are now activated by food venues. Restaurants and grocery stores, across a range of concepts and price points, are the sought-after anchors of main streets.
At the same time, cities face serious food-related problems. Food deserts, areas of a city that lack easy access to wholesome food options, have become commonplace. Perhaps more concerning is that 15 percent of the residents of Indiana are "food insecure." These conditions exist, at least in part, due to the prevalence of suburban forms that have restructured our urban neighborhoods and rural main streets. The result is long commutes that eat into time for preparing quality meals and the loss of fine-grain urban fabric that would allow nutritious food options to be within walking distance.
The recent renewed interest in urban living signals a shift to more village-like attitudes, particularly visible in our changing relationships with food. Anchored in the ideas that quality of life improves when we are willing to live closer together and embrace a less tidy but more vital mix of uses nearby, we can share more and waste less. Meals can be a social experience while we gain a closer connection to what we eat and the people who produce and prepare it.
Here are a few examples that demonstrate the posibilities:
The sharing economy: The mantra of this movement has been, "own less, experience more." Why own an expensive camera if you can borrow one and use the money you saved to buy the ticket for your photography excursion? In the same vein, why have a car or a kitchen if there are alternatives?
Mealku in New York City is using technology to conquer the logistics of sharing good, nutritious food. Mealku's social-media-like platform connects people who have a surplus meal on an evening when someone across town is looking for one, coordinating the delivery through bike messengers. The recipients even have the opportunity to rank and comment on their free meal. Imagine what this could do for the food-insecure.
Celebrating local: In search of authenticity, urban gastronomy has blossomed through the food truck movement. We have already begun to see the next logical progression to food halls (the Bottleworks district will have one), where food entrepreneurs can remain small and true to their cuisine but take advantage of a fixed location and kitchen. Look for cities to sprout a more affordable and accessible progression of food halls, inspired by the collection of street vendors and hawkers in the Night Markets popular in Asian cultures.
"Farm-to-table" restaurants have extended the idea of local to include the supply chain. Some cities—like Louisville, for example—are creating "food hubs" where residents can make their own connections with local farmers who would otherwise not have access to these consumers in the traditional supermarket settings. More than just farmer's markets, these hubs are like agricultural "maker spaces," functioning as food halls and demonstration farms that highlight the potential of symbiotic relationships among vendors. Louisville's FoodPort, for example, includes a kitchen incubator, food truck plaza, classrooms, and an anaerobic digester that converts the facility's organic waste into compost that can be used by farmers in the food hub.
Healthy lifestyle: It's hard to believe we have people who go hungry when we, as a nation, throw away 63 million tons of food annually—that's 70 football fields, each stacked with food waste as high as the Salesforce Tower downtown. Particularly with produce, much of what gets discarded is safe for consumption but might be bruised or spotted beyond our cultural norm. Local groups like Food Rescue and Second Helpings work with grocers and restaurants to intercept much of this "ugly food" and redistribute it to schools and individuals in need. With the goal of providing wholesome cuisine at affordable prices—and to normalize the use of ugly food—the Real Junk Food Project has created cafes internationally that make use of and celebrate the use of rescued food.
Sustainability: Composting isn't new but it has only recently been embraced by restaurants and other commercial food ventures. Locally, Green with Indy and Earth Mama are organizations that organize composting on a commercial scale for many Indy restaurants who have signed on to take part.
The next generation of composting, anaerobic biodigestion, breaks down food waste using bacteria in an airless environment. The process produces methane. In the small town of Keynsham, between Bristol and Bath in the United Kingdom, 80 percent of its electricity will be generated by treating its food waste this way.
These kinds of symbiotic and multifaceted opportunities represent a form of quiet technology that will transform how we eat and how our cities function.
To you and yours: Eat, drink and be merry. Share a little, celebrate, be healthy, be green, and have a very happy holiday season.•
__________
Gallagher is a principal and urban designer with Ratio and a professor-in-practice of urban design at Ball State University. Send correspondence to TGallagher@ratiodesign.com.
Please enable JavaScript to view this content.