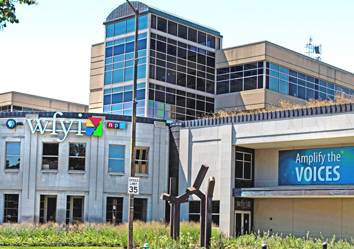 WFYI-FM 90.1 is replacing its long-running program "The Art of the Matter" with a new show as part of a larger effort to overhaul and expand its arts and culture coverage, according to station officials.
The public radio station plans to create an arts-and-culture desk in its newsroom as part of that effort, giving such coverage similar weight as education, health and economic issues.
"The Art of the Matter" will leave the air in late January. The reason for the cancellation isn't immediately clear, apart from station officials saying it is part of a restructuring to expand arts and culture coverage.
Sharon Gamble, the co-founder and host of "Art of the Matter," will be involved in the new program as a contributor. The show, which does not yet have a title, will launch in early 2018.
"Sharon has done a great job with 'Art of the Matter,' and we're glad she's going to be with the new show," WFYI spokesman Andy Klotz told IBJ Monday.
Gamble works full-time as vice president for development at Indiana Landmarks.
"The Art of the Matter" lost one of its two distinctive voices in mid-2016 when co-host Travis DiNicola moved to Pennsylvania with his wife, Michelle. Since then, Gamble has been the primary host while sometimes bringing in a guest host.
Jill Ditmire, a 25-year broadcast veteran, will be the reporter/producer assigned to the arts and culture desk, according to WFYI officials.
On WFYI, Ditmire is the local news anchor during "All Things Considered" and contributor to "Morning Edition," "Sound Medicine," and "Wednesday Live at 5:44." Other WFYI staffers also will work on the new show.
"The Arts & Culture Desk will exist alongside our other radio newsroom beats, including the Education Desk, the Health Desk (Side Effects), the Poverty/Economy Desk and the City Desk," Matt Shafer Powell, WFYI chief content officer, said in a memo to employees last week.
"The Arts and Culture Desk will afford us the opportunity to draw all of our news-, radio- and web-based arts and culture programming into one space for the sake of consistency and quality control," Powell said in the memo. "This represents an important first step toward the creation of a more tangible and easily navigable strategic path between our News and Radio operations. Long-term plans involve the inclusion of WFYI's video productions into Arts and Culture Desk strategy and planning."
As part of the overhaul, Ditmire will relinquish her duties as "All Things Considered" news anchor, according to Powell's memo.
The format of the new show and the time slot it will air are "still being fleshed out," Klotz told IBJ Monday.
Please enable JavaScript to view this content.