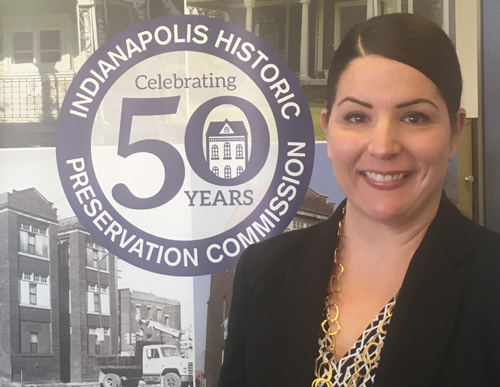 The Indianapolis Historic Preservation Commission didn't need to look far to find its next administrator.
Commissioners voted Wednesday evening to appoint Meg Purnsley, the IHPC staff's longtime principal architectural reviewer, to the position.
She's slated to take over Jan. 31 for longtime administrator David Baker, 69, who is retiring after serving in the role since 1987.
"It gives me great pleasure in knowing that I'm leaving the commission staff with competence that I have confidence in, and confidence in the leadership going forward," Baker told IBJ.
IHPC vice president W. Bruce Stauffer, who headed the search committee, said four candidates were selected for interviews from a pool of applicants before Purnsley was selected.
"I'm extremely pleased," IHPC President Bill Browne, founder and president of Ratio Architects, said at the Wednesday meeting. "I think, in my opinion, the committee selected the best [candidate]."
Purnsley, 44, received a master's of fine arts degree in historic preservation from the Savannah College of Art and Design in Georgia and earned her bachelor's in interior design from Southern Illinois University.
She arrived at IHPC in September 2000 and previously worked two years at the Illinois Main Street program, a volunteer-driven, preservation-based downtown revitalization effort, as a main street designer.
"I've always been interested in advancing my skills here," she said. "This is going to be an opportunity for me to expand upon those."
IHPC administrator is a wide-ranging position that oversees design and development issues in 12 historic districts, five conservation districts and for many individual landmark properties.
IHPC's roots date to 1967, when state lawmakers established the commission to preserve the character and fabric of historically significant areas and structures in the city. But it wasn't until 1976 that IHPC became a division of the city's Department of Metropolitan Development.
Baker arrived at IHPC in 1984 as an architectural reviewer and became administrator in 1987—a role he's enjoyed for 30 of the commission's 50 years of existence.
As administrator, Baker has been a powerful but low-profile force in saving some of the city's oldest structures from demolition. Today, the commission's mission has shifted toward assessing how new construction melds with historic neighborhoods, although saving old buildings from demolition remains a top priority.
The job of administrator includes managing the nine-member IHPC board and leading the IHPC's staff, which functions as a division of the DMD.
Purnsley referred to Baker as a "mentor" that has prepared her for her new job. DMD is still "working out the details" in how her former principal architectural reviewer's position might be filled.
 
Please enable JavaScript to view this content.