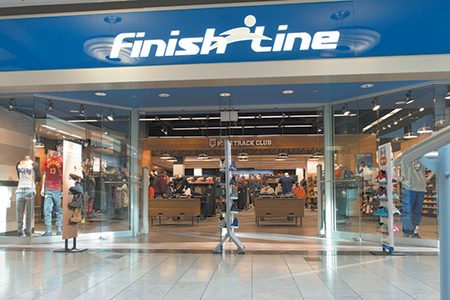 A United Kingdom-based company continues to acquire more shares in The Finish Line Inc., boosting its stake in the Indianapolis-based retailer to 35 percent.
Sports Direct International, the U.K.'s largest sportswear retailer, has bought nearly 1.8 million Finish Line shares in the past 60 days, Sports Direct reported Friday in a public filing.
The company now owns more than 3.3 million shares in Finish Line, which accounts for 8.25 percent of its outstanding shares. Sports Direct also has a 26.65 percent stake through a form of derivative known as "contract for difference," though it doesn't have voting rights on those 14.1 million shares.
Since Aug. 21, or the last time it bought shares in the Finish Line, Sports Direct has increased its stake in the local athletic shoe and apparel retailer from 29.6 percent to 35 percent, according to the filing.  
Sports Direct's aggressive accumulation of Finish Line stock over the past year has fueled talk of a company takeover among analysts who follow the Finish Line.
Finish Line directors responded in August by adopting a so-called shareholder-rights plan aimed at thwarting unwanted takeover advances. The plan, also known as a "poison pill," uses the issuance of rights to buy preferred stock to prevent an investor that owns less than 12.5 percent of the stock from boosting its stake beyond that threshold.
But some analysts have seen that move, along with an expansion of its board from seven to eight members announced at the same time, merely as efforts to bolster Finish Line's negotiating clout.
Shares of Finish Line have been on the rise and were trading at $13 each Monday morning, up from a 52-week low of $6.90 in late August. The company's stock received a boost on Dec. 21 after the athletic shoe and apparel retail reported better-than-expected quarterly earnings.
In its fiscal third quarter ended Nov. 25, the company reported a loss of $12.9 million, or 32 cents per share, compared with a loss of $40.4 million, or $1 per share, in the same period a year earlier.
Same-store sales in the quarter increased 0.8 percent, beating analyst expectations of a 4.5 percent decline and performing much better than in the previous quarter, when they tumbled 4.6 percent.
Founded in 1982, Finish Line operates 566 stand-alone stores and another 378 outposts within Macy's department stores.
Sports Direct, founded the same year as Finish Line, operates 670 stores worldwide. Under CEO Mike Ashley, the company has begun to shed its roots as a discount retailer in favor of becoming the "Selfridges of sport," in reference to the British luxury department store. It owns such brands as Slazenger and Everlast.
In April, Sports Direct gained its first foothold in the United States by buying the sporting goods chains Bob's and Eastern Mountain Sports from their bankrupt owner. The same month, Sports Direct acquired a 7.9 percent stake in Finish Line.
Please enable JavaScript to view this content.