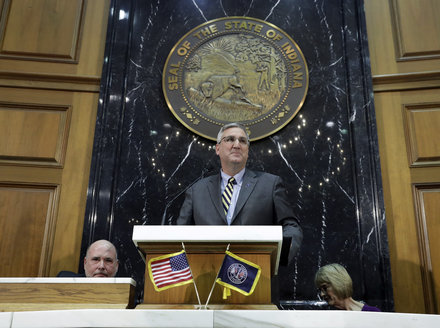 Holcomb said his first State of the State address to the Legislature last year was about "setting the tone, setting the course" on what areas his administration would be focused on, from making sure more people have the skills to compete in today's workforce, tackling the opioid epidemic, and making Indiana more globally competitive in economic development.
This year, he said in an interview with IBJ, is about starting to measure progress in those areas and laying out more specific goals.
"This year's will be the same course, but some specifics," Holcomb said. "We need to hit these benchmarks. You can't manage what you're not measuring."
That's especially true on workforce development issues, he said, which is "the issue of the decade, not the day."
"For us to all be on the same page is an advantage," Holcomb said.
His call for setting out specifics comes as legislators are in the same mood. House Speaker Brian Bosma told reporters last week that House Bill 1002 will include a provision that will call for all of the state's training programs to sunset in 2019 so lawmakers can figure out which ones are working and which ones aren't.
Holcomb agreed that course was necessary.
"That's what in large part, the rest of this year going into the next budget session is all about, determining what's working and what's not," Holcomb said. "Every dime we spill and waste on a program that's not working is taking away from programs we know … are both effective and helping transform."
He said he wants to push state leaders to not rest on their laurels, especially with economic development.
"Much of 2017 was a year of breaking records: record number of people working, record low unemployment, record number of job commitments," Holcomb said. "I want to make sure folks don't get comfortable with being the record-holder. We want to understand what truly taking it to the next level requires."
Holcomb said he wants to figure out "how we get more people to be part of this success story," from the state's own citizens to tapping into new global markets.
"That is the change that will determine our fate when we we look back 10 years from now," he said.
Holcomb's address before the joint session of the Indiana General Assembly is scheduled for 7 p.m. Tuesday. It will be broadcast live online at https://Indiana.adobeconnect.com/Indiana.
 
Please enable JavaScript to view this content.