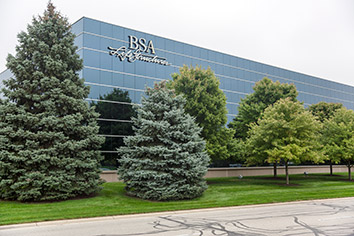 A partnership involving a local real estate company has purchased the north-side Precedent Office Park for a whopping $132.7 million.
Philadelphia-based Rubenstein Partners and Strategic Capital Partners of Indianapolis acquired the 1.1 million-square-foot office park at Keystone Avenue and East 96th Street from Chicago-based LaSalle Investment Management.
The local office of real estate services firm JLL, which represented the seller, announced the transaction Wednesday.
For Rubenstein and Strategic Capital, the acquisition represents the partnership's second purchase of a big north-side office park in the past 18 months.
The two companies bought Parkwood Crossing in August 2016 from local real estate investment trust Duke Realty Corp. for $162.9 million.
The 1.2-million-square-foot Parkwood Crossing complex at Interstate 465 and North Meridian Street was Duke's largest Indianapolis-area office park. Consisting of eight buildings developed by Duke from 1989 to 2005, the park is 86 percent occupied, according to IBJ statistics.
At 1.1 million square feet, the 19-building Precedent is only slightly smaller than Parkwood Crossing, and ranks as the fourth-largest office park in the Indianapolis area. It is 90 percent occupied, according to IBJ statistics. The Precedent property also includes a 6-acre parcel that is zoned for up to 80,000 square feet of office development.
Major tenants include BSA LifeStructures, Defenders, Home Point Financial, WebMD and Progressive Insurance.
"The Precedent has long been one of the premier office parks in Indianapolis," said Strategic Capital Partners President Richard Horn. "Its excellent location and proximity to the Fashion Mall at Keystone and other amenities is why many great local and national companies have chosen to locate their businesses here. Our capital campaign will be designed to retain and attract these tenants over the long term."
LaSalle's sale of the Precedent marks the second time the office park has changed hands in the past four years. LaSalle paid $120 million for the property in July 2014, when the company bought it from Cayman Islands-based Global Property Investment Fund.
Global Property Investment Fund shelled out $143 million for the property in 2005 at a time when real estate investment prices were nearing their peak prior to the Great Recession. 
LaSalle Investment Management is an independent subsidiary of real estate brokerage JLL. JLL managing directors James Postweiler, Peter Harwood and John Robinson, along with vice president Tammy Faulk, led the deal on behalf of LaSalle.
JLL Indianapolis has been retained by Rubenstein and Strategic Capital to continue leasing the property.
"This was an exceptional opportunity to acquire scale in a burgeoning Indianapolis market with institutionally maintained assets," Postweiler said in a written statement. "We continue to see demand for large portfolio-style investments, especially with upside through lease-up and mark-to-market strategies."
The Precedent is located in the Keystone office submarket and is comprised of a mix of mid-rise, two-story and single-story office buildings. It was developed in the 1980s by Howard Peterson, the late father of former Indianapolis Mayor Bart Peterson.
Please enable JavaScript to view this content.