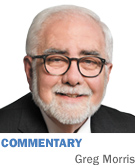 First, I want to say thank you to Indiana State Rep. Matt Pierce, D-Bloomington, for filing legislation that would provide Indiana with a "death with dignity" law. When enacted, this law would enable individuals with terminal illnesses to request medication that would give them the option of ending their lives in a peaceful, humane manner.
The right to die with dignity has been discussed for decades, and it's time to move on this legislation now. In August 2009, IBJ managing shareholder Mickey Maurer penned a column on this topic. Mickey abridged his previous column and updated his thoughts in November 2015 with, "State must confront death with dignity." You can read this online at ibj.com.
Dying with dignity or, as some people refer to it, assisted suicide, is a personal and passionate topic for me. My dad suffered with symptoms of lung disease by the time he was 40. He was diagnosed with Alpha-1 antitrypsin deficiency, which developed into emphysema and then congestive heart failure. He fought declining health for many years before he died at 58.
The fact that he had to die at such a young age is a tragedy. He missed a prime time of life, not seeing his grandchildren grow from toddlers into fine men and women with children of their own. But the extreme pain and suffering he experienced in the final year of his life is an even greater tragedy.
In his final year, this poor man basically suffocated to death. He was bedridden, tethered to a respirator, and fed through a stomach tube. Along with a nursing staff, my mom, my younger brother and I took care of him this way at home for a year. We were told when he was released from the hospital that he probably wouldn't make it through the weekend. Can you imagine how depressing and painful it would be to face each day knowing you had no chance for a better quality of life or survival?
Rep. Pierce's Bill 1157 would allow an adult diagnosed with a terminal disease that will end the person's life within six months to voluntarily request and receive a prescription medication that can be used, if necessary, to die in a peaceful, humane manner. The measure is based on a law passed in Oregon in 1998. Four other states—California, Colorado, Vermont, and Washington—and the District of Columbia have passed similar laws.
Pierce said at a Statehouse press conference, "The medication can only be requested and self-administered by the person facing imminent death. Careful monitoring in the states that have passed these laws shows they have been used responsibly." Pierce's legislation contains safeguards to ensure the individual's decision is not a result of suffering from depression or any kind of coercion.
It also would require a patient to request the medication on a written form signed by two disinterested witnesses who attest the patient is competent and acting voluntarily. The request is followed by a 15-day waiting period and a second written request for the prescription. A second doctor is required to confirm the diagnosis and that the patient is making a voluntary decision before a physician can prescribe the medication. Patients would be informed of other available options, such as pain management and hospice care. They would be referred for counseling if depression or another disorder is impairing their judgment.
Choosing to end one's life in a terminally ill situation should be a personal choice, not the choice of government. Based on my experience, I can assure you I will not let myself or a loved one suffer the way my dad did, and I shouldn't have to leave Indiana to find the proper solution. Neither should anyone else.
In these end-of-life decisions, we treat animals more humanely than humans. This has to change. Let's find a way to make 2018 the year we make death with dignity legal in Indiana.•
__________
Morris is publisher of IBJ. His column appears every other week. To comment on this column, send email to gmorris@ibj.com.
Please enable JavaScript to view this content.