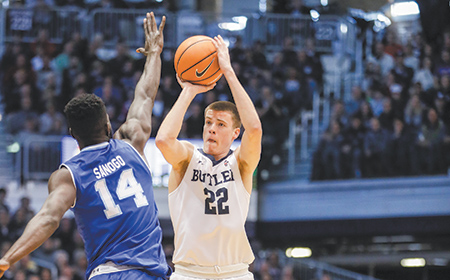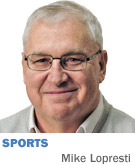 The tattoo on his left arm is the giveaway. So are the two on his chest. They tell you plainly enough what has gone on in Sean McDermott's life, and in his heart.
"Never, ever thought he'd get a tattoo," his father, Mike, says. But that was before so much changed in the McDermott family. Before Sean almost died from a staph infection, at 17. Before his mother's cancer. A one-two punch to leave any home shaken.
So Sean had a basketball in God's hands tattooed on one side of his chest, and a stairway to heaven on the other. Then, when his mother was sick, a tiger on the left arm with the words "Kim Strong" above. The family wasn't all that big on the idea of body art, but as his father says: "When he comes home and shows you that, what are you going to say?"
It is a Saturday afternoon in Hinkle Fieldhouse, an hour before the game, and the McDermott parents are already in the house. They started arriving early last season. The cancer—in Kim's thymus gland—had nearly wrecked Kim's immune system, so she had to wear a mask when around any crowd.
"It was important for him that I come early, and Sean could wave to me," she says. "It was good for me to get here when it wasn't crowded, so I didn't have to wear my mask for a while. He could wave and look at me without a mask."
Such a small thing. Such an important thing. "Even the slightest sightings meant a lot," Sean says. "And they still do."
Doctors say Kim is cancer-free now, although her immune system still has its challenges. But no mask is needed. The parents still come early, though. Sean has turned into a valuable presence off the bench for Butler, and his tip-in saved the day at Georgetown. He was really playing well when an ankle injury slowed him down, but overall, things are good.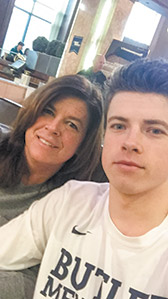 Sean McDermott got a tattoo, to honor his mom, Kim, as she battles cancer in her thymus gland.(Photo courtesy of McDermott family)
So there was time for his parents to discuss what recent years have been like for their family.
"I think there's probably a greater appreciation for how quickly it can be taken away," Kim says. "I think probably the biggest difference I notice is, with Sean and I, there's definitely a tighter bond. And I think you become more empathetic to people, and what they go through."
It started on a November weekend in 2013. Sean was a junior at Pendleton Heights and had endured some tough practices. That day, he couldn't stay awake. On Monday, his joints started hurting. Tuesday, it was worse. "He basically couldn't move," Kim says. "You couldn't adjust the bed. There'd be horrific screams if you did, because he was in so much pain."
Repeated trips to the doctor and emergency room kept providing diagnoses that ended up wrong. First, dehydration. No. Then the flu. No. Then a virus. No. By Wednesday, they were headed to Riley Hospital for Children. By then, Sean had to be wheeled into the hospital in a wheelchair. "Nov. 16," Kim says of when it all began. "It's always easy to remember because Mike's birthday is the 17th."
The tests finally found an answer—a serious staph infection, caught just in time. Just. In. Time.
Kim: "We were told by the infectious-disease doctor that he was a day away from not making it. If it had taken one more day to get him to Riley, he probably wouldn't have survived."
Mike: "The doctors told us his muscles went back to the infant stage. He was 175 pounds as a junior, and in eight days he went to 152 pounds. It just ate his muscle."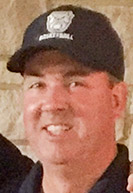 Mike McDermott
The medical opinion held that he wouldn't play basketball that junior season.
Kim: "I just asked the doctors not to tell him that. The only reason I thought he would fight as hard as he could fight, was to play basketball."
Mike: "That was everything to him. Basketball is Sean's life."
Turns out, he did get back later in the season, though it was two years before he was truly 100 percent. By then he was at Butler, ready to get his career rolling. But …
Kim had been going through a series of strange infections herself, plus a cough. Tests found a mass in her chest. She immediately feared lung cancer, but it turned out to involve the thymus gland.
"My bone marrow was destroying my white blood cells. For a normal person, the average white blood cell count is 3,500 to 4,000. Mine was 40. I was at risk to catch anything and everything."
She was diagnosed in 2016, six days after Joey Brunk's father was found to have brain cancer. Darkness had fallen on the Butler basketball program.
"All I wanted to do was keep the best attitude possible, so my two kids knew they didn't have to worry about me, that I would be fine," Kim says. Besides, for a mother, cancer might be scary, but not as bad as watching a son suffer. "That," she says, "was a hundred times worse."
It took three months for her to get her white cells up to where she could have surgery to remove a grapefruit-size mass.
"That's probably the hardest thing I've ever been through," Mike says. "To watch my son be sick and that close to death, and then last year watch my wife be sick. But you know what? We've all got faith in God and we know He's going to get us through everything. Sean's been a fighter his whole life; my wife is a fighter. Neither one of them got down. … My wife was telling me, 'You've got to keep your head up.'"
Sean started researching the tattoo he wanted to honor his mother. Kim wasn't so sure.
"Sean and I had a long talk about that one. He put a lot of thought into it. It was like a six-month talk."
The challenges for the family go on. Kim's immune system is still at risk, so any fever means a quick hospital trip. Also, Sean's brother, Chayce, is a pitcher at Ball State. He hurt his arm last year and needed Tommy John surgery.
"I basically knew I had cancer the day before my birthday," Kim says. "Last year on my birthday, he gets injured pitching in an intra-squad scrimmage and found out he has to have Tommy John.
"We're skipping my birthday this year."
It is three hours later, after a tough loss to Seton Hall. Sean McDermott, who contributed seven points, has come out to see the family. His grandparents are there, too. Grandfather Alan Darner coached two state champions at Pike. Not here is uncle Linc, who played at Purdue and is coach at Green Bay, getting the Phoenix to the NCAA Tournament in 2016.
Basketball is the gathering spot for the clan. The place to celebrate, and to reflect on the recent hard journey. Could Sean describe what it was like, having infection suddenly overturn your world?
"I can't. I woke up one day and felt like I couldn't move. It's indescribable pain. I don't think I could ever feel that again.
"Not knowing whether you'd have tomorrow, that was the scariest part."
But tomorrow came, and he was soon back on the court, and now look at him.
"It means everything. This is a game I love. It makes it even more special being here at Butler.
"Finally, it feels like I'm starting to get to that point in life where you can calm down and breathe for a second, and do what we love and do it together as a family."
Well, except for his brother's surgery. "It's a never-ending cycle," he sighs.
About that tiger tattoo.
"The lesson I learned is, they were there for me every day, so it's my turn to be there for her every day. Hopefully, she knows I'm there, and that I'll carry her battle with me."
He rolls up his left sleeve and shows the tattoo. Yep, that sends a message all right. Took a while to win the parents over, hey?
"Months of convincing. I think they like it now."•
__________
Lopresti is a lifelong resident of Richmond and a graduate of Ball State University. He was a columnist for USA Today and Gannett newspapers for 31 years; he covered 34 Final Fours, 30 Super Bowls, 32 World Series and 16 Olympics. His column appears weekly. He can be reached at mjl5853@aol.com.
Please enable JavaScript to view this content.