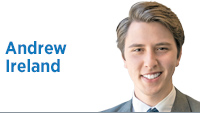 The Christmas holiday is marked by worship, family gatherings and, of course, the ceremonious exchange of gifts. As we turn the corner on the most wonderful time of year, a popular Christmas toy is shaking up the very way we consume information.
Already a $7 billion industry and projected to grow tenfold by 2021, virtual reality and its sister technology, augmented reality, are proving to be the next great breakthrough. But what will this shift mean for politics? Considering virtual reality's strong consumer debut, its impact will be revolutionary and might come sooner than you think.
Political races have long been molded by the emergence and tactical employment of new technologies. Not unlike the locomotive that carried Abraham Lincoln from town to town, the fireside chats that bolstered FDR in war time, the first-ever televised debate that sunk an unassuming Nixon, or even the innovative embrace of social media by the Obama campaign, virtual reality, too, will have its day.
Digital technology is already on the precipice of this revolution. This push was evident in 2016 as campaigns used the internet and social media in bold new ways to gain traction.
Republican candidate Carly Fiorina's website, for example, was almost exclusively a search bar to "Get Answers," touting the candidate's willingness to answer any question. Following a query, the site would retrieve a pre-recorded video or broadcast news clip of Fiorina response to that issue.
In another first, Rand Paul spent a full day of his life in technicolor, broadcasting from the trail on Facebook Live.
Notably, the Trump campaign's digital guru, Brad Parscale, led a stupefyingly advanced marketing operation, at its peak micro-targeting and A/B testing more than 50,000 ads a day on Facebook. Paired with data work by Cambridge Analytica, among other groups, this allowed President Trump's once-nascent digital efforts to blossom into a record-setting fundraising vehicle.
In light of this, highly personalized virtual experiences are the logical conclusion. In fact, this is already being experimented with by legacy media to better immerse readers in stories, by surgical teams to improve complex operations, and even by the White House to share images of its Christmas decor.
I can imagine a not-so-distant future where you can meet a major candidate—a feat that traditionally carries a hefty price tag—by simply putting a headset on. Instead of dawning a tuxedo to snap a grainy photo and catch impersonal pleasantries, you could have that candidate come to you. Whether you have a burning question to ask or simply wanted to share a beer with our next president, virtual reality could make that possible.
This brings both an unparalleled level of access to candidates and an uncanny opportunity for divisiveness. As media theorist Marshall McLuhan postulated: "We shape our tools and thereafter our tools shape us." This unique medium is more than a novelty; it is bound to change the very nature of political discourse and further divide our nation in the process.
This will happen in part because of new opportunities for data mining, with remarkable means to track interactions and make adjustments in an effort to maximize the appeal of a candidate. Unfortunately, this will likely take the form of wedge issues and political opportunism.
For better or worse, this emerging technology is likely to redefine what it means to be a candidate and ultimately what policies and ideas campaigns prioritize. Deeper study of this is needed and now is the time to do so, because our first VR president is coming sooner than you think.•
Click here for more Forefront columns.
__________
Ireland is a Robel Scholar at Indiana University's Michael S. Maurer School of Law and a digital media consultant. Send comments on this column to ibjedit@ibj.com.
Please enable JavaScript to view this content.