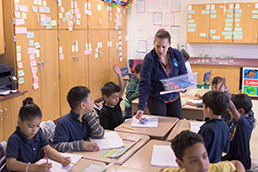 IPS innovation school Global Preparatory Academy is part of a unified enrollment system that helps students choose a Marion County school. (IBJ file photo)
OneMatch, a new unified enrollment system for traditional public and charter schools supported by Indianapolis Public Schools and education-reform advocates, announced that it had already received more than 3,500 applications before its Jan. 16 deadline to apply to schools for the 2018-2019 school year.
OneMatch is a web-based application process for IPS and 90 percent of Marion County charter schools. It replaces more than a dozen different school applications and deadlines. Students use a single application and apply to up to 10 schools.
The goal is to find out which schools are most in demand, to help all schools plan better, and to help increase efficiencies in the enrollment process. OneMatch is being run by local not-for-profit Enroll Indy, which is headed by Caitlin Hannon, a former IPS school board member. Local education-reform not-for-profit The Mind Trust funded the venture.
The group announced that, since mid-November, Enroll Indy has told 7,000 families about the system through door-to-door canvassing and phone banking.
Enroll Indy will run a lottery to determine placements if there is more demand than seats at a particular school. The lottery is based on student preferences and factors such as whether siblings already attend the school and a student's geographic proximity to it. Families will be notified of the results on Feb. 15.•
Please enable JavaScript to view this content.