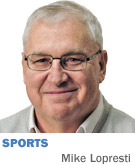 This is a story about love and basketball. About the sons of Indiana who travel hither and yon to play their games in college, and the families left behind.
This is about a mother in Indianapolis, packing up for another 1,000-mile drive to attend her son's game in Virginia. A father in Logansport, staying up past midnight so he can watch his son's game from the West. An 80-something couple in Richmond, learning the ways of computer streaming and dish TV to follow the great-grandson they helped raise, in his games in Texas.
Say hello to Katy Fitzgerald.
Her son is Kyle Guy, Indiana's 2016 Mr. Basketball at Lawrence Central and now the leading scorer for Virginia's No. 2-ranked Cavaliers.
"When he was being recruited and looking at schools, we made a point to really let him make his decision," she said. "We just really felt like we did not want that extra pressure on him picking a place maybe he really wasn't sold on just because of the distance. Honestly, he could not be at a better place."
Katy Fitzgerald of Indianapolis travels often to see her son, Kyle Guy, top, a Lawrence Central graduate who is now the leading scorer at the University of Virginia. (Photo courtesy of Katy Fitzgerald)
Guy has a fan base here. Mother Katy and her husband, Tim. Father Joe Guy and his wife, Amy. Two friendly couples who make sure the pride of Lawrence Central can always look up in the stands and see a familiar face, even 500 miles from home.
"Other college kids get to come home for a couple of weeks. Last year, he had practice on Christmas Day, so he was home two days. This year, he was home three days," Katy said. "It's just a struggle and sacrifice of quality time and making sure your kids are being taken care of. We want to make sure his inner circle is there to support him. Which they are. There's only been one game, and that was because of weather, all last season and this season where he's not had friends or family there to support him."
But that requires some logistical planning.
"I actually keep a little spreadsheet because I can't live without being organized, first of all. And second, he's always needing extra tickets. He's always got someone that wants to go. I've been to about six games this season. My husband went to the Syracuse game last night. Between the four of us, we've been to all the games so far. I have a little schedule and see who can go and be there for him. He probably gets tired of it, but I know he loves it.
"It's an eight-hour drive, but it's an easy drive. We just put miles on our car and make it work. We've found some bed-and-breakfast places because it gets so expensive with hotels and gas and food. We usually take more than one adult so we can trade off driving."
Some trips, they stop on the way back. For others, it's an all-night return drive through the mountains. "You've got to work sometime, right?" she said. 
But Kyle Guy's career will not go unwitnessed. "We sometimes lose sleep, but we have to make it work with our kids' schedule and work schedule, and if we have to drive back through the night, we do, and try to get sleep the next night."
What they don't see in person, they've made sure to watch on TV (last year, they had to follow a couple by radio). "It was actually kind of nice watching from here if it was an away game," she said. "Not to hear all the crowd chanting against your son."
Meet Pat Skaggs.
He's the basketball coach at Logansport with a son named Carter, who is the third-leading scorer for Washington State. That's in Pullman, Washington, 2,000 miles from Logansport.
Pat Skaggs has his own team to tend; at last count, the Berries were 9-1. But no matter how busy, he knows a lot of days will end in front of the television with his wife.
"I've been able to see almost all of his games," he said. "Obviously, there are some late nights and maybe lack of sleep. We went out and bought the Fire Stick from Amazon that has the Pac-12 package."
A lot of Washington State games go beyond midnight, Logansport time. So there Pat Skaggs is in the wee hours, watching as a father and a coach.
"There was a time I stepped out of high school coaching and did coach him in some youth leagues and actually was his sixth-grade basketball coach. All the time and sacrifice and effort, the countless hours put in the gym with him, it is tough not to be there. I'd be a little frustrated if I couldn't watch him on TV, but thank God I can.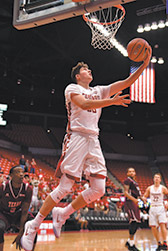 Carter Skaggs, above and in center of family photo at right, is the third-leading scorer at Washington State, which is 2,000 miles from his Logansport home. (Photo courtesy of Washington State University)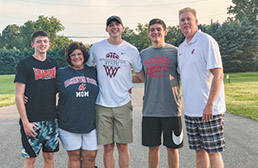 (Photo courtesy of Skaggs family)
"It's not like it's easy to shut the game off and go right upstairs and go to sleep at one o'clock. Sometimes you almost have to unwind a little bit, just like I would after coaching my own high school team. It's been a dream come true for him, as a kid that basically bet on himself and never quit."
Skaggs is hoping for a window in Logansport's schedule that allows him to slip out to Pullman in February. "It's hard; we're starting to get games canceled," he said, meaning makeup games for the Berries. "I won't get to see too many of his games, but we talk all the time. He's excited and having the time of his life."
Back in Logansport, the Washington State Cougars suddenly have fans. "There's a local guy in town who brought me a Washington State University license plate cover, which I've hung up in my kitchen at home," Skaggs said. "So there's a guy here who actually went to Washington State University, which really stunned me."
Sit a spell with Bob and Fabbie Bane.
Their great-grandson Desmond spent much of his young life at their home, was an Indiana All-Star at Seton High School, and now is a starter for the No. 24 Texas Christian Horned Frogs in Fort Worth. On their porch in Richmond is a small stone with three letters that tell where this home stands as far as college basketball allegiance:
TCU.
"We've got Frog fever," Bob said.
They still see the little boy who played basketball for hours at their house. "This has been his goal since day one, and he'd be out there shooting," Bob said. But now he is a college man, a thousand miles away.
"I never heard of TCU until he went up there," Fabbie said. "I told him when he left here, 'Do you realize that I started counting the number of games I missed since you started playing?' I'm just not talking about basketball—I'm talking about football, baseball, every game that he played. I'd only missed five of his games, from the time he was a tiny tot to the time he left here. I told him, 'It's going to be kind of hard for me, not being there watching you play.'"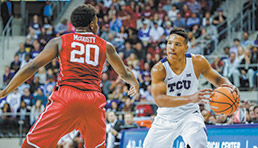 Desmond Bane, who graduated from Seton High School in Richmond, is a starter for the No. 24 Texas Christian Horned Frogs. His grandparents have been able to watch every game on TV. (Photo courtesy of TCU Athletics)
(Photo courtesy of Bane family)
So Bob and Fabbie, with help from their family, have learned the ways of modern technology. A dish, Fire TV Stick. They have sat in their living room and watched … how many TCU games?
"All of them," Fabbie said. "We're right here, and he knows that. We'll put on our TCU gear and get ready to watch television. My granddaughter took pictures of me and Bob with TCU T-shirts on. She sent it to him and he said, 'This is what keeps me going.'"
Finding Horned Frog gear is not the easiest thing to do in Richmond. "I heard that Finish Line has some TCU stuff," Fabbie said. She proudly pulled out a Christmas gift from someone—a Desmond bobblehead doll. "Now, everybody in the family wants one."
Fabbie is hoping to see her great-grandson play at Vanderbilt in Nashville later this season. Bob is not so sure, because traveling is hard. "I just ain't got it in me anymore," he said.
But there is the connection of technology, and the Banes have learned to cherish that.
"He insisted that I would get a smartphone so we could FaceTime," Fabbie said of Desmond. "Every other day or every day, just to say hi. And we can see how he looks."
Her husband interrupted. "You'd talk to him two or three times a day if he'll answer. She's nosy."
She doesn't want to miss a minute. None of them do, the folks back home.•
__________
Lopresti is a lifelong resident of Richmond and a graduate of Ball State University. He was a columnist for USA Today and Gannett newspapers for 31 years; he covered 34 Final Fours, 30 Super Bowls, 32 World Series and 16 Olympics. His column appears weekly. He can be reached at mjl5853@aol.com.
Please enable JavaScript to view this content.