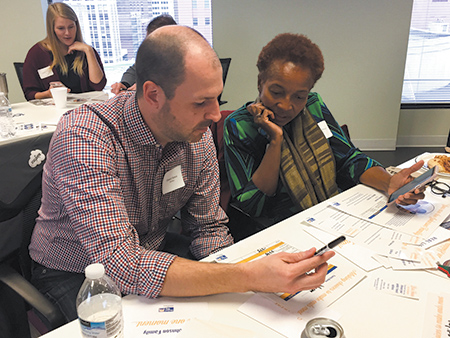 Meet the Wilson family: Linda is near retirement age, but is taking classes part time so she can eventually obtain a higher-paying job.
She lost her daughter, Rebecca, in a car accident two months ago. Rebecca's two children now live with Linda.
Linda's other daughter, Lizzy, got laid off from her job, so Lizzy and her two children are also living with Linda.
The family of six has a monthly income of $2,800. How do they make ends meet?
That's the scenario—one based on a real central Indiana family—I faced during a recent poverty simulation conducted by the United Way of Central Indiana and hosted by Kronos Inc. and TechPoint.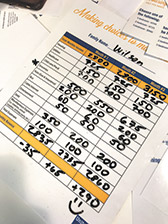 It took three months of budgeting and help from programs supported by United Way to give the Wilson family a small cushion in its budget. (Photo courtesy of Kronos Inc. and TechPoint)
The event is part of a broader ongoing strategy for the United Way of Central Indiana to educate and engage the community about poverty and the assistance the organization provides.
United Way led 70 of these simulations—called Moment to Movement—during 2017, reaching more than 3,000 individuals. It's a significant increase from previous years, when the group offered the activity only to the 100 participants in its leadership program.
"What we started asking ourselves was, 'Why can't we make this opportunity available to more people?'" said Ann Murtlow, president and CEO of United Way of Central Indiana. "We are touching people in companies and in the community that have never been involved with United Way before, and that's pretty exciting."
Three types of simulations are available and range in time from 30 minutes to three hours, but all follow a similar premise—learn what it's like to make ends meet with limited resources.
The simulation I experienced took about an hour and was called, "Real Life. Real Choices." It's the most popular simulation United Way offers.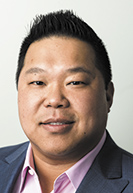 Ding
In a room with about 40 other participants, I teamed up with Kronos Services Practice Director Doug Ding to carefully budget every dollar for the Wilson family.
"You start to feel the stress," Murtlow said. "I think it changes you."
The first month
The Wilson family's monthly $2,800 income must cover all the expenses you'd expect—housing, transportation, utilities, food and health care.
The Wilsons also pay $350 per month for Linda's schooling.
Ding pulled out the budget worksheet, and I spread out the cards that detailed costs for each of the family's needs and wants.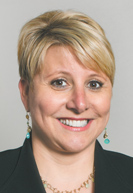 Murtlow
A three-bedroom home would cost $900 per month, plus $175 for utilities. That would take a big chunk of the budget, but we thought the expense was worth it.
Groceries for a family of four or more were $675; if you had a car, which the Wilsons did, insurance cost $100 a month and gas another $100; a monthly bus pass, which Lizzy needed, cost $60.
As we went down the budget sheet provided by United Way, it didn't take us long to suspect we were going to overspend our $2,800. I punched the numbers into the calculator on my phone (because it's always good to check your math) and our suspicions were right. Good thing the budget sheet was dry-erase material.
The first thing to go—that three-bedroom home. It certainly wasn't an easy decision, but we didn't see any other way. The family of six would have to live in a two-bedroom home. It would save $200 per month.
We also had to cut back on groceries. We trimmed $675 to $500, saying we'd use local food pantries as much as we could.
One thing we were adamant about keeping—health care. It was a big monthly expense at $700, but we believed it was the best thing to do given the four kids in the home.
Even with those cost-cutting measures, we were over budget by $35. Maybe we should have cut the $50 for internet, but again, with four kids at home, we thought it needed to stay.
In the gap
Understanding the plight of lower-income households is important because, according to United Way, nearly 30 percent of families in the Indianapolis area are financially unstable.
A family of three in central Indiana needs an annual salary of $44,941 to be self-sufficient, United Way says.
But the federal poverty level—upon which eligibility for most assistance programs is based—is much lower than that: For a family of three, it's $20,090, and for a family of four, it's $24,300.
That creates a gap between the income at which families can qualify for some federal programs and income at which they are able to pay all their bills.
Many of the families in the simulation fall into that gap, including the Wilson family, which had an annual income of $33,600.
"I think everybody has their own view for what it means to be living in poverty," Murtlow said. "It's a real hurdle for these families."
United Way hopes the simulations provide an immersive learning experience, build empathy and remove the stigma attached to struggling families. They're also meant to show that poverty has no one-size-fits-all solution because the issue is too complex.
"We really need to be working on both short- and long-term strategies to get people to be self-sufficient," Murtlow said.
United Way doesn't have a specific benchmark for the program, but the overall goal is that it inspires people to act, whether that means donating, volunteering or even advocating.
Ding had not previously been involved with United Way but plans to stay connected now. He said there's a big misperception that many families receiving assistance are trying to cheat the system and take advantage of it, and this simulation helps dispel that.
"In most of these scenarios that they presented, people were employed or were in the process of getting employed," he said.
And it's already changed the way Ding thinks about certain aspects of his own life.
When his wife recently turned up the thermostat in their home, he remembered learning about families who can't pay their utility bills.
"I was like, 'Do you know a lot of people just don't have heat?'" Ding said. "I'm wondering how many people don't have heat right now."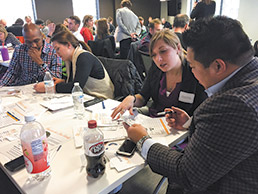 IBJ reporter Lindsey Erdody paired with Kronos Services Practice Director Doug Ding to craft three months' worth of budgeting for a family whose name was fictional but whose circumstances were based on those of a real Indianapolis family.
More expenses
In the second month of the simulation, the Wilson family faced another hardship. The children were starting to struggle in school, and they needed to attend therapy sessions. That would cost $200 per month.
Ding and I toyed with the numbers, and again, we didn't like the decision we came to: Linda would have to drop out of her classes. We knew that could have a long-term negative impact because, without the continued education, better employment and higher pay would be tough to find.
Other groups doing the same exercise worked with different families in different situations, but no one had it easy. Some people decided to drop health insurance to save money, and others sold their cars for a one-time payout of $500.
Some participants called the decision-making process "stressful," "fragile" and "eye-opening."
Few of the decisions the teams made on behalf of their families were ideal. But that helped them understand why families make what can sometimes seem like illogical choices.
And unfortunately, participants quickly learned, a decision about one area of the budget hurt others. If a family sold its car, for example, how could family members get to the food pantry? If the family forgoes paying for day care, who will watch the kids after school?
If the family lives in a tight space, how is that going to affect everyone's mental and physical well-being?
The problem—said Margie Worrell, United Way's immersive-learning-initiatives manager, who led the simulation—is that the families have so many more needs than wants.
"You came up against needs versus needs," she told participants.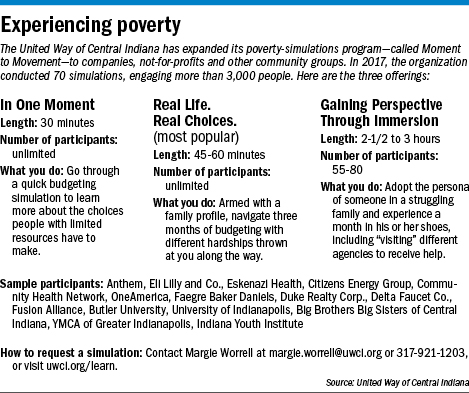 Finally, relief
In the third month of the simulation, the Wilsons could breathe easier. Linda received a scholarship for her classes, and the kids received memberships to the Boys & Girls Club.
The extra help—provided through United Way-supported programs and agencies—allowed us to increase grocery spending and reduce reliance on food pantries. The month ended with $290 in savings. Ding and I smiled, knowing it meant the family could possibly move to a bigger home soon.
"How many of you feel like, if you wouldn't have had the United Way opportunity, your family would have been sunk?" Worrell asked.
The room collectively nodded.
It's this part of the simulation that United Way hopes will teach people more about what the organization does to help.
"One of the things that we really needed to do was to focus people on our impact work," Murtlow said. "There are so many in the community that still think about United Way as a fundraising organization."
United Way creates resources for low-income families, including Connect2Help 2-1-1, which connects people to social services. The group also recruits volunteers, lobbies for public policy changes, and invests in community partnerships.
For example, in 2016, more than 18,600 households in Indianapolis received utility assistance through a United Way-supported program.
She hopes the simulations empower participants to take action to make a difference, she said. And that's one reason United Way partnered with TechPoint and Kronos for one of the events—the tech community is growing in Indianapolis and United Way wants those employees to get involved.
"It's going to be very important for people in the tech community to be part of the solution," Murtlow said.
Ding said Kronos hopes to host a simulation again, possibly this summer or next fall, so the company can involve even more employees. "I think it was a very worthwhile simulation to help people understand some of the difficulties and perceptions that may be false," he said.
And in the summer, when it's hot and it's time for most people to turn on the air-conditioning," Ding said, "I'll think twice."•
Please enable JavaScript to view this content.