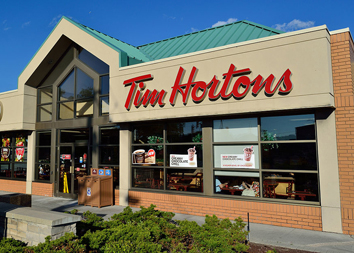 The Hobart-based company that's bringing Canadian institution Tim Hortons to the Indianapolis area has revealed four additional locations where it plans to build the stores.
The first metro-area Tim Hortons is set to open later this month at 8301 Rockville Road, near Avon, with the others under construction. The firm Luke Family of Brands said Wednesday that the four additional stores will open at:
• 9910 Pendleton Pike on the east side
• 4954 Lafayette Road on the northwest side
• 1805 E. Main St. in Plainfield
• 3300 E. State Road 32 in Westfield
"We are extremely excited to introduce this iconic brand to the Indy market in the weeks to come," Luke Vice President Tom Collins Jr. said in prepared remarks.
Luke also is expanding its presence in the local market by opening locations for its own concepts across multiple formats, including Luke liquor stores, convenience stores and car washes, in addition to the Tim Hortons restaurants.
Luke is under contract to take over operations of a convenience store on Indianapolis' southeast side, with two additional locations under development. The company also acquired a package liquor license in Carmel, to introduce its LiqGo liquor store brand into the market. Its other brands include $5 Car Wash and GoLo.
Founded in 1967 as Luke Oil, a supplier of home heating fuel in northwest Indiana, the Luke Family of Brands is a third-generation, family-owned company operating brands across a wide range of industries including fuel distribution, convenience stores, car washes, liquor stores, farm markets and quick-service restaurants.
 
The company in 2017 was awarded area development rights for Tim Hortons coffee shops in the Indianapolis market.
In February 2016, Tim Hortons parent Restaurant Brands International Inc. announced plans to open new locations in areas including Indiana, Cincinnati, and Columbus, Ohio, adding to its roughly 650 outposts.
Please enable JavaScript to view this content.