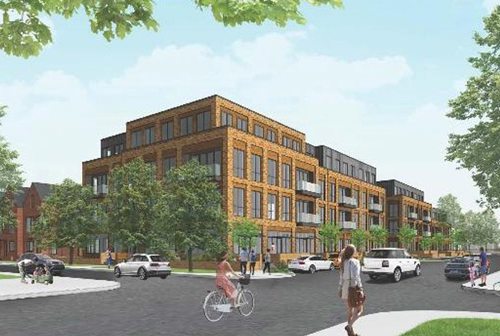 A Chatham Arch resident has successfully sued to stop a big condominium, townhome and retail project from being built across the street from his residence.
Marion Superior Court Judge Michael Keele ruled in favor of David Pflugh in an order issued Monday morning.
Pflugh, who lives at 847 N. Park St., asked Keele in June to review the variances granted for the Chatham Arch project, which would occupy a large portion of the block south of Ninth Street between East Street and Park Avenue.
The project called for 55 condominiums in two four-story buildings along the east side of East Street and seven single-family homes and four townhouses situated on the west side of Park Avenue. It also would include 2,400 square feet of retail space along East Street.
Charlotte, North Carolina-based developer Paul Vezolles in May won approval to build the project from the Indianapolis Historic Preservation Commission, which also voted to have the 1.2-acre property rezoned with variances.
Keele's order sets aside the IHPC's zoning decision and returns the matter to the commission for further proceedings
To make way for the development, Vezolles planned to demolish the one building remaining on the property—a one-story former school structure at 855 N. East St.
Pflugh filed for judicial review in June, naming as defendants IHPC and Vezolles' entity 855 North East Street LLC. He argued that his property rights would be prejudiced "by introduction of commercial use into a residential neighborhood, including the core of the historic neighborhood."
Judge Keele agreed.
"When considering whether a need for a zoning variance arises from some condition peculiar to the property involved, the peculiarity in question must relate to the specific features of the property such as unusual shape or relatively small acreage, not merely the owner's desired use of the property," Keele wrote in his order.
The property was zoned SU-7, a special use designation. Vezolles petitioned to change the zoning to the D-8 "dwelling district" classification, but with with variances to allow commercial use and less open space than required.
Vezolles, by his own admission, could have either developed the site under its former zoning designation or developed it under the D-8 "dwelling district" rezoning without a commercial component, the judge said.
"Owner's own testimony was that development in accordance with SU-7 zoning would result in a 'second-best' project that owner was ready to develop," Keele wrote.
One of the variances Vezolles sought was for less open space than required (55 percent) under the D-8 zoning ordinance. Keele, however, wrote that Vezolles would be starting with a "blank canvas" upon demolition of the abandoned school building and could meet the standard of 55 percent open space, but has chosen not to by seeking to "maximize economic return by overbuilding and not leaving the required open space."
Vezolles already had revised his plans several times to win IHPC approval in May. Vezolles could not immediately be reached for comment on Monday morning.
Please enable JavaScript to view this content.